Panaracer: Hand-Made Tires
Jan Heine

A highlight of my visits to Japan is going to the Panaracer factory. It's a magical place, where some of the world's best tires are made largely by hand. It resembles a storybook factory: Huge machines emit hissing steam. Skilled hands assemble casing, beads and tread. Hot tires cool as they move along conveyors under the roof.


The main reason for my visits to the factory is to discuss ideas for new tires, and improvements to existing ones, with Panaracer's engineers (above). These guys know more about making bicycle tires than almost anybody in the world. We bring them our ideas, they provide feedback and input, and together, we finalize new designs, like the innovative tread pattern of our Steilacoom knobbies.
During recent meetings, we've been talking a lot about tubeless tires. Tubeless is an emerging technology without real standards yet. We must figure out how to make tires that work on as many different rims as possible. When customers have problems, we try to diagnose and troubleshoot for them. We all share the goal of making the most of this exciting new technology.


Once we have finished our meetings, we often get to walk around the factory. Two weeks ago, we saw our Steilacoom, Switchback Hill and Snoqualmie Pass tires being made. It was the first time that my visit coincided with one of our production runs – great fun!
There is nothing really toxic involved in making tires at this factory – just steam and heat – so there is no need for protective clothing, not even earplugs. (Like many Japanese, the worker below wears a face mask for protection against spring-time pollen, not industrial pollution.)


Making tires starts with kneading the hot tread rubber in huge machines that look like they belong in a giant bakery. The rubber is rolled into thinner and thinner strips, until it has the right thickness for the tread.


The casing is stored in huge rolls, ready to be impregnated with rubber. Both the thickness of the threads and the amount of rubber coating determine how supple the tire will be. This is where the experienced workforce and time-tested machinery allows Panaracer to go a few steps further than most tire makers and use ultra-fine fabric and a very thin rubber coating to make the lightest and most supple tires possible.


The tires are assembled by hand. It's a fascinating process, and I could easily spend a month photographing the factory. There is enough material write a book! But there are too many trade secrets, so no photography is allowed. Panaracer's engineers would prefer if nobody knew what is going on in their factory.
Ever since I first visited this amazing factory, I've wanted to show our readers how high-end tires are made. It took us years to persuade the company to do a photoshoot last year. Each photo was carefully vetted before it was cleared for publication in Bicycle Quarterly. Knowing this, I feel incredibly privileged to be allowed to see everything and ask questions about anything when I am visiting.
Once assembled, the raw tires look almost like the finished product (above), but they are only loosely assembled. They still lack their tread pattern, too. All this comes in the next, most impressive step…


Each tire is vulcanized (above). That means it is placed in a mold that is engraved with the tread pattern. Steam heats the mold until the rubber partially melts. The tread rubber flows into the mold and is imprinted with the tread pattern. Since the tire partially melts, all its elements are fused together and become inseparable, making the tire very strong. When the tire emerges from the mold, it is no longer flat, but has the domed shape of, well, a tire. After it cools, it's ready for quality control and packaging.
In the past, vulcanized tires were considered slow, and hand-glued ones were faster. That was because the casing material used in the factories that vulcanized their tires was stiff and not optimized for performance. With all tires, the casing is by far the most important factor that determines the tire's performance and comfort.
Panaracer's high-end tires use very supple casings, yet they are vulcanized. This combines the best of both worlds – the naturally round shape of the tire further optimizes the tires' performance: As the wheel rotates and the contact patch leaves the ground, the tire automatically resumes its round shape.
Many hand-made tires are not vulcanized. Held together with strong glue, they look like the raw tires in the photo above – flat. When their contact patches leave the ground, tire pressure has to overcome the tire's natural flat shape to make it round again. According to Bicycle Quarterly's testing, this makes the tire about 3% slower.(1) The very best tubular tires, such as those made by FMB, are assembled on an inflated casing. That way, the tire has the same round shape as a vulcanized tire. Why aren't all tires vulcanized? Small makers don't have the machinery that is required.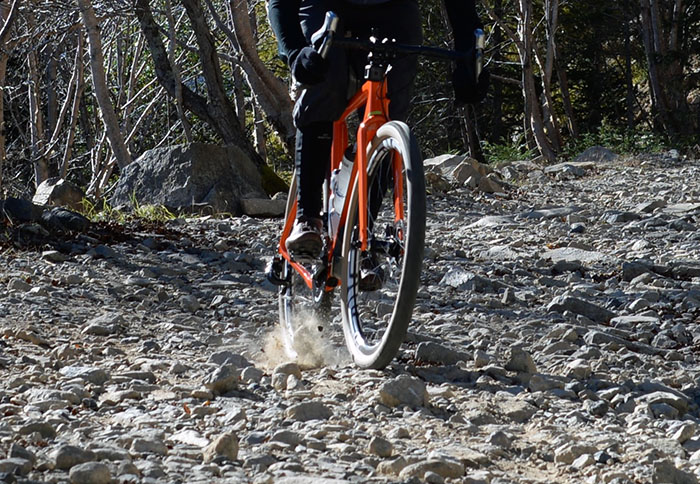 For the Compass Extralight models, Panaracer uses a casing usually reserved for their top-end racing tubulars. Panaracer doesn't use this casing on their own clinchers. The company feels that their tires may end up with inexperienced customers, who may need sturdier tires.
We are glad that Panaracer's engineers are willing to push the envelope a bit further for our Compass tires. We are confident that Compass customers try to avoid crashing into potholes and obstacles that could ruin a high-performance tire. In any case, the limits of what supple tires can do are quite high – witness the photo above showing a set of Compass Extralight tires in action. The tires survived the long and rough descent from Odarumi Pass in Japan without damage.
I cannot show you the factory, but if you are going to the North American Handmade Bicycle Show (NAHBS) in Salt Lake City, Utah, this weekend, you'll be able to meet the people from Panaracer. Stop by their booth and tell them how much you enjoy the tires they make for us!
The full report on the Panaracer factory was published in Bicycle Quarterly 58. If you missed that issue, it's available as an individual back issue or with our 4-pack of the last year's Bicycle Quarterlies.
Click here for more information about Compass tires.
(1) We tested two tires made with the same casing and tread. One was assembled on an inflated casing, the other "flat-glued".