Rene Herse / Compass tires are safe with carbon rims
Jan Heine

Recently, Enve put out a Consumer Safety Bulletin about their carbon wheels and tires made with natural fibers. The conclusion: "Tires using natural sidewall materials with an open tubular type construction are not fit for use with ENVE carbon rims." Natural fibers are inconsistent in their strength, and the hard edges of carbon rims can cut the weakest ones, causing the tire to split and blow out.


This had some customers worried: Are Rene Herse / Compass tires safe to use with carbon rims. The answer is an unequivocal "Yes!" 
Our tires, including the Extralight models, are made from polyester. In fact, we investigated cotton casings when we first started making tires, but we found the same thing: Cotton – a natural material – is somewhat inconsistent. Some fibers are very strong, others much less so. Polyester has the advantage of being very uniform – ideal for making thin and supple tire casings.
In the past, polyester casings were relatively coarse and not very supple, hence cotton and silk was preferred for high-performance tires. Today, modern manufacturing allows to make extremely fine polyester threads that equal or surpass the suppleness of the natural fibers.


In addition to the stronger material, our tires include a thin strip that goes around the bead. This reinforces the joint between rim and tire, and avoids problems like those reported by Enve. So whether you use carbon or aluminum rims, rest assured: Rene Herse and Compass tires equal the performance of the best 'open tubulars,' but they are strong enough to be used on all rims.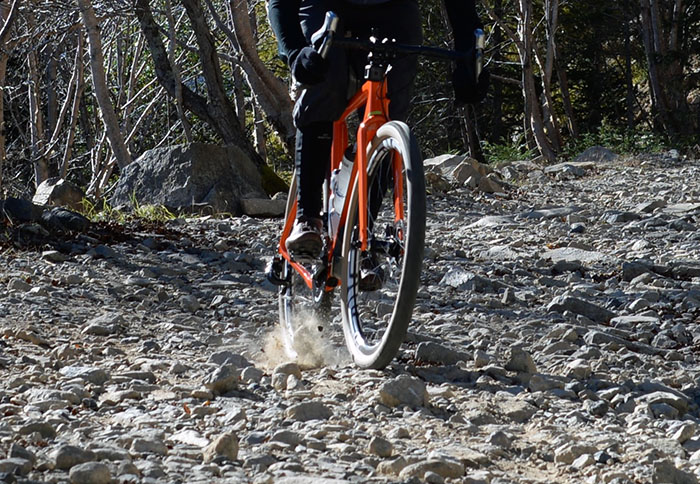 Our on-the-road experience confirms this: We've ridden our tires on Enve rims with a variety of bikes, without any problems.
The service bulletin also notes a second issue: Some (but not all) cotton tires can have inconsistent diameters and stretchy beads. As a result, they can blow off the rim. Again, this does not apply to Rene Herse / Compass tires: They are made to the tightest tolerances by one of the best makers in the world: Panaracer. In fact, Panaracer tires are specifically mentioned by Enve as a brand recommended for use with their rims.
Oh, and the much-anticipated 650B x 48 mm Juniper Ridge tires you see in some of the photos? They are on their way to Seattle. We should have them within a month.
Further information: