Rene Herse Sample Sale
Jan Heine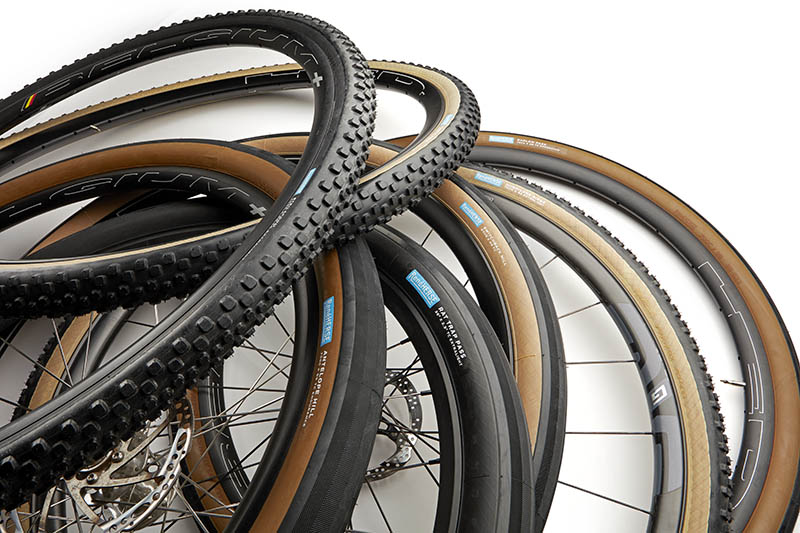 Let's face it: Life isn't the same as it was just two weeks ago. We're all in this together, and we've been encouraged how everybody has been pulling together to face this challenge.
At Rene Herse Cycles, we've thought about what we could do to help. Most of us still ride our bikes – solo – for transportation, exercise, and to keep our bodies and spirits healthy. Most of us still need bike parts…
We have a sizable stash of parts that haven't been used, but that we don't want to sell as brand-new, either. These are parts that we've used for photo shoots or for testing tire fit on rims. Some are prototypes that don't have the right stickers – we commission the molds first and make a small run of tires for testing, long before the new stickers are finalized. We always make more prototypes than we need for the actual testing, just in case.
Usually, we keep these components for our own bikes, but we're now offering them to everybody in our Sample Sale.
Update 3/25: The Sample Sale has ended. Thank you.
Here is how it works:
All Sample Sale products are on a new web page.
All Sample Sale products carry our full warranty.
Discounts are based on what you get:

If it's marked down a lot, expect old logos, a little more 'shop wear' or a tire that has been used on a roller for testing.
If it's marked down a bit less, it's probably a recent-production photo shoot sample.
Product descriptions list why product is discounted.

All samples are functionally as new.
You can combine your Sample Sale order with non-sale items, books and Bicycle Quarterly past editions to save on shipping.
All sales are final. NO RETURNS, please.
Here are some of the things in the sale:
We've got pretty much every model of Rene Herse tires. Some are just individual tires, others are pre-production runs with a dozen or so tires. Some have older logos, most don't have packaging. Some have been used for testing tire fit, but none have been ridden on the road.
There are a few generator hubs that we've discontinued in our program. Now is a great opportunity to upgrade your bike!
We are discontinuing the MKS US-L pedals, and selling the remaining stock for just $ 39. You'll probably never again find a top-quality clipless pedal for that price!
I love the large 3-bolt cleats for riding – they provide the most stable platform and distribute the pedaling forces over the entire ball of your foot – but you can't walk well with them. For an indoor trainer (or spin class, once those are possible again), these would be my first choice. They feature MKS' silky-smooth bearings and an innovative cleat mechanism: The rear clip that holds the foot is split and has two springs: To disengage the foot, you only need to work against one spring, making it easy to unclip. But when you pedal hard, both springs hold your foot in, so it's impossible to accidentally come out of your pedal. We've got the Rinko version, too, plus a few TIME-compatible MKS USB-Nuevo pedals.
The samples include some Berthoud bags that have cosmetic defects: The leather straps have dark spots. This happened during the tanning of the leather, and nobody noticed until it was too late. Some are more noticeable than others – the discounts reflect that – but all will look fine once they develop a little patina with use.
We've got some knickers, too. Some are the current model, others are in the discontinued tan color (above). If you like the tan, now is your chance to ride in style!
And finally, there are some pre-production Rene Herse bottom bracket shells. The wall thickness is a bit thicker between the BB threads – we machine out the extra material there on the current-production shells. The difference is just 20 g in weight, otherwise they are identical. All Rene Herse BB shells have a wider angle between the chainstay sockets to allow for stays that curve around wide tires (and fenders). We now that custom builders don't have it easy, and we want to help you, too!
Click here to check out the Sample Sale.
And most importantly, please be careful, and stay safe and healthy!