Safety advice: Rene Herse tires are designed for rims that meet the ETRTO standard, specifically:
G height: 5.2 – 6.5 mm
Sidewalls with hooks.
Rims that do not meet the current standards – especially hookless rims and rims with sidewalls that have G heights of less than 5.0 mm – are not recommended for use with Rene Herse tires. This is especially important when installing your tires tubeless. Our testing has found that tires mounted tubeless on hookless rims or on rims with lower-than-standard G heights have a less-than-adequate margin of safety against blow-offs. All warranties are void when Rene Herse tires are installed on rims that do not meet the current ETRTO standards.


The ETRTO (European Tire and Rim Technical Organization) sets most standards for car and bicycle tires and wheels, not just for Europe, but for the entire world. Currently, the ETRTO standards are the only standards that exist for tubeless bicycle wheels. They specify the G height of the sidewall at 5.2 mm (for tubeless) and 5.5 – 6.5 mm (for tubes, depending on the rim width). The sidewall must have a hook.
Like most tire makers, we design our tires to meet the ETRTO standards. Why don't all rim makers follow these standards, too?
In the past, there were some poorly designed rims with overly deep wells and G heights larger than 6.5 mm. Fortunately, these rims have long been discontinued, and cyclists who still have them usually know how to deal with the problems that occur when trying to mount tires on them (as much as this is possible).


These days, we see some rims with G heights that are smaller than the ETRTO standard and no hooks. Even though these rims do not meet the current standards, this makes sense for mountain bikes with carbon rims: A tall sidewall makes the rim vulnerable if the tire bottoms out while the bike is leaning over. The tall G height provides a long lever that can crack the rim. Why hookless? Mostly because the hook is difficult to make with carbon fiber: It requires a complex 3-piece mold for the rim bed.
A 'hookless' rim (above) with a shorter G height is stronger and less expensive to make. Stiff mountain bike tires are inflated to ultra-low pressures. They won't blow off their rims even if there isn't much sidewall to hold them on. So the non-standard rims have worked fine for mountain bikes. These mountain bike rims usually come with low maximum pressure ratings.
Recently, some rim makers have introduced 'gravel' or 'all-road' rims that are made to mountain bike standards: without hooks and with low G heights. Unfortunately, these rims don't work well for high-performance all-road tires.

We can't say it often enough: The bikes we ride aren't mountain bikes. They are road bikes with really wide tires. Perhaps it's not surprising that the industry still misunderstands what gravel and all-road riding is all about: The sport has grown from the bottom up, when riders like us headed into the mountains, found new roads and designed new equipment to ride on them. Some of the established manufacturers are getting it, but many still think inside their traditional boxes of 'Road' and 'Mountain' bikes. More often than not, they've put our bikes into the 'Mountain' category.
Here at Rene Herse Cycles, we've always thought of them as 'road' bikes – that is why we coined the term 'all-road bike' for them. Even though my Firefly (above) has 26″ wheels, it's not a drop-bar mountain bike. It's a road bike with wide tires. We ride on road tires, and we need road rims for them.
That is why hookless mountain bike rims don't work well for all-road wheels. All-road tires are supple, and they run at higher pressures than mountain bike tires. This requires an additional margin of safety.
We tested a 650B x 48 mm Switchback Hill tire on a carbon mountain bike wheel with a hookless rim and a G height 0f 5.0 mm. We mounted the tire tubeless, but without sealant (for obvious reasons). The rim is rated to 40 psi, and the tire was fine at that pressure. 40 psi isn't a lot, even for a 48 mm-wide tire. The tire is rated to 55 psi, so we kept inflating to see what would happen. At 58 psi, the tire blew off. We then repeated the experiment with a second tire, and it blew off at 65 psi. This problem is not limited to Rene Herse tires: Other riders have reported similar blow-offs with tires from other makers.
58 psi is a lot of pressure for a 48 mm tire, but when the tolerances stack up in a bad way (slightly oversize tire and slightly undersize rim) or when the tire isn't installed perfectly, the blow-off pressure will be lower. Then the margin of safety won't be adequate. This is neither the tire nor the rim's fault. It's simply using the wrong rim for a supple all-road tire.

How much of a difference does the hook make? We put one of the tires on a HED Belgium Plus rim. The G height is the same as on the carbon rim we tested (5.0 mm), but the HED rim has a hook. Even though this is the same tire that already had blown off the rim once, it stayed on at 75 psi. The is no doubt: The hook has a crucial function in keeping the tire on the rim. Other rim and tire makers have tested and found the same: The hook significantly increases the pressure at which the tire safely stays on the rim.
Fortunately, there is another way to increase the margin of safety: Use inner tubes. We put the tire back on the hookless mountain bike wheel, this time with a tube. We inflated it to 75 psi and left it overnight. Nothing happened. We were surprised that even the violent explosion had not stretched the tire, but these beads are strong. (However, we don't recommend re-using a tire that has blown off the rim.) That is good news: Hookless rims tend to work better when used with tubes – even though we cannot officially recommend them, since they don't meet the ETRTO standards to which our tires are designed
Conclusion: All-road bikes are road bikes, and all-road tires are road tires: They should be mounted on road wheels. When you buy new wheels, make sure the rims are designed to the ETRTO standards, and not to mountain bike standards: You want a hook and a G height of 5.2 – 6.5 mm. If your wheels already are equipped with hookless rims, using tubes can increase your margin of safety. And check the maximum pressure ratings, not just of the tire, but also the rim: Don't exceed them!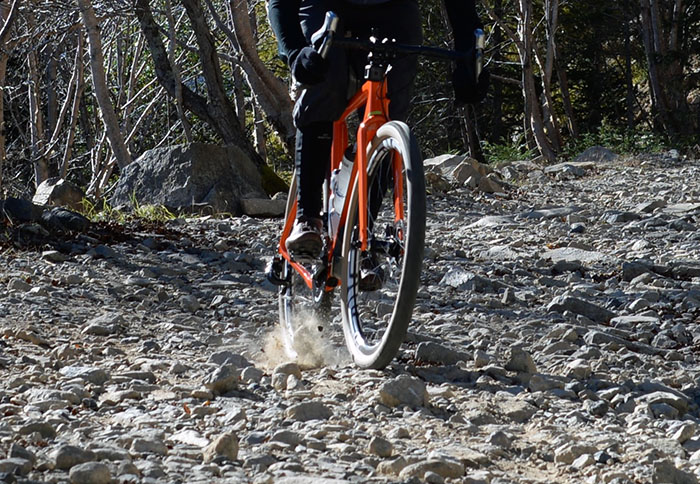 Tubeless is great technology – had I used inner tubes on the ride across Odarumi Pass in Japan (above), I probably would have pinch-flatted several times. But tubeless is also an emerging technology. We've had to learn how to mount tires (huge blasts with compressors are a sign that the rim is undersize) and how much sealant we need (more than we usually think). Now we are discovering that hookless mtb-style rims don't work well with all-road tires.
Why do tubeless tires blow off so much more easily? Without a tube reinforcing the joint between rim and tire, it's much easier for air pressure to force its way out. It's still extremely rare for tires to blow off, but, with tubeless tires becoming more popular, there have been more incidents than before. They affect all brands of tires – a little while ago, a wheel maker told me of two different tires from a big German tire maker that had blown off his hookless rims that day.
Also remember that tubeless-compatible tires always need liquid sealant inside. If the sealant dries out completely, the tire can break loose from the rim sidewall and deflate suddenly. This can cause the tire to come off the rim, even if rim and tire are sized correctly.

Safety is our biggest concern, not just for our customers, but also for ourselves, because we ride our bikes hard. We'll continue to test, and we'll continue to work with rim makers, to drive tubeless technology forward in a safe and responsible way. The last thing we want to worry about during our adventures is whether our tires will stay on their rims! Fortunately, in almost 100,000 km (60,000 miles) on Rene Herse tires and their predecessors, I've not experienced a blowout. We'll work hard to make it remain that way!