Rene Herse Cycles is the exclusive North American distributor for Gilles Berthoud. We are especially excited about their saddles, which combine amazing comfort with modern design and superior durability.

All Berthoud saddle tops are cut in the grain direction of the leather, which means that they won't sag or become lopsided. Unfortunately, most other saddle makers try instead to get as may saddles as possible out of each cowhide. That often turns into a false economy when the saddles wear out prematurely.

Berthoud forms their saddle tops in CNC-machined molds to create a very consistent quality. With consistent leather grain and shape, it's not the luck of the draw whether you get a good one or a bad one – they all are excellent.

The undercarriages are made from composite, which is more durable than steel and better at absorbing shocks. It's one of the key reasons why these saddles are so comfortable.

The saddles are assembled with custom bolts rather than rivets, so they are easy to rebuild. Each saddle's serial number is engraved on the nose bolt. Berthoud saddles come in three shapes for different riding styles:
The Galibier is Berthoud's lightest saddle, weighing just 346 g thanks to its minimalist shape and titanium rails. It's a great saddle for riders with a low, performance-oriented position, who prefer a relatively narrow saddle. That said, the Galibier is still a bit wider than modern 'racing' saddles for long-distance comfort. The same shape is available with more economical steel rails as the Soulor model.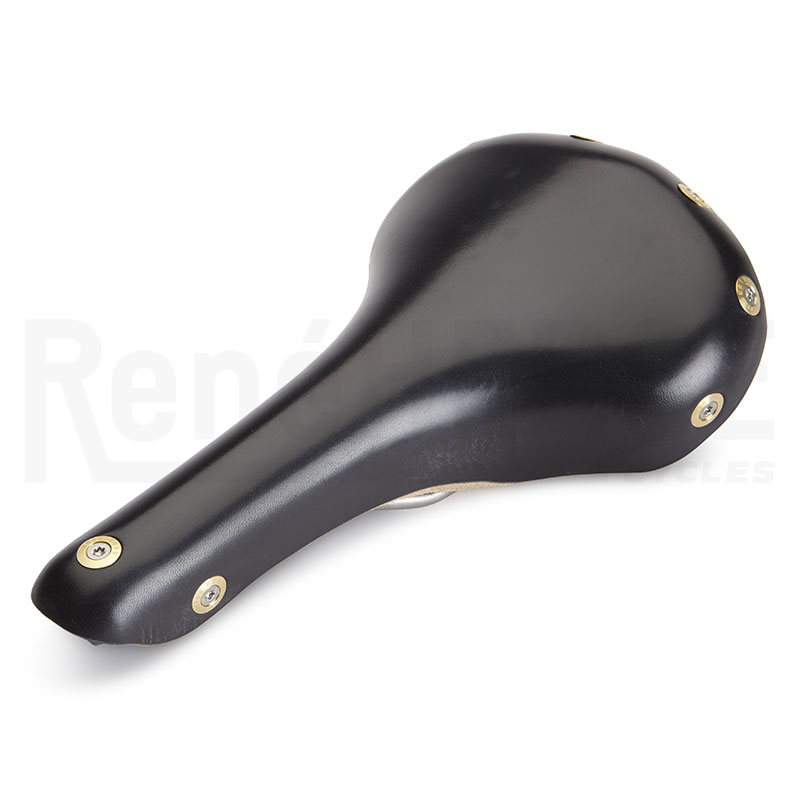 The Aspin and Aravis have slightly wider rears, making them perfect for a more relaxed riding position. The Aspin has steel rails, while the Aravis's titanium rails save 50 grams. The ti rails also add comfort, because titanium is more flexible than steel.
The Marie-Blanque (steel) and Agnel (ti) are women's saddles with shorter noses than the other models. The names of Berthoud saddles are taken from mountain passes: Saddles with steel rails are named after cols in the Pyrenees, while titanium-railed saddles carry the names of passes in the Alps.
All Berthoud saddles – except the superlight Galibier – are also available in 'Open' versions with a cutout to relieve pressure. I usually don't like saddles with cutouts, because the edges tend to chafe. I was surprised when I tried the Berthoud Open saddle: The shape of this cutout disappeared completely, and the saddle was comfortable from the first ride. If you are concerned about pressure, this is probably the most comfortable saddle you'll ever find.
Why isn't the Galibier available with a cutout? Its minimalist shape simply doesn't have enough leather to remove material from the center without losing its strength.
All Berthoud saddles – except, once again, the Galibier – can be equipped with a KlickFix attachment to easily mount saddlebags, whether Berthoud's or those from other manufacturers. Two screws attach the KlickFix attaches to the saddle frame, and the bag just klicks into it. This provides a stable connection – the bag won't sway or come off, even on the roughest terrain. Alternatively, for riders who prefer to carry a traditional British saddlebag, two saddlebag loops are integrated into the frame.
Berthoud saddles are totally serviceable. This means that you can change a worn-out top, or even change your saddle top from a 'Standard' to an 'Open' (or vice versa). If you want to save weight, you can replace steel rails with titanium. We keep all spare parts in stock.

With all these choices, plus four different colors (tan, brown, black and the cool 'cork'), most riders will find their perfect saddle in the Berthoud program. Having ridden them all, it's hard to pick a favorite, because they all work so well. Berthoud saddles really are a cut above the rest.