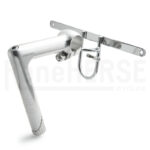 Rene Herse Decaleur For Nitto Stem
$199.00
A decaleur attaches your handlebar bag securely, so it does not move around as you ride, yet it's easy to remove when you lock up your bike to go into a shop, visit a cathedral or check into a control at Paris-Brest-Paris. The decaleur also keeps the bag clear of the handlebars, so you can use the hand position 'on the tops.' (The decaleur does not replace a rack. The bag needs to be supported securely from below.)
Decaleurs are deceptively simple, but they have to stabilize a large and sometimes heavy bag that vibrates, especially on rough roads. We've seen a lot of decaleurs fail. Others accidentally release their bags when the road gets bumpy. The Rene Herse decaleur attaches to the stem for optimum support, and it incorporates a locking mechanism developed by H. Hirose to keep the bag secure no matter how rough the terrain.
To release the bag from the bike, push and hold the button and pull the bag upward. Attach the shoulder strap, and you are ready to go. Installing the bag is equally simple: Slide the rear strap over the backstop of your rack. Insert the two pins on the bag attachment into the tubes on the stem mount, press the button and slide the bag downward. Once the bag is in place, release the button to lock the bag. No other attachments are needed, yet the bag is held securely.
This Rene Herse decaleur is designed for Nitto Pearl (NP), Technomic and many other aluminum stems with a horizontal bar clamp bolt. The decaleur also is available in a version for Rene Herse steel stems.
The decaleur consists of two parts: One attaches to the stem, the other to the bag. Pins on the bag attachment slide into the tubes on the stem attachment with a precise fit. Stem not included.
Pro Tip: On stems where the bolt threads directly into the aluminum, drill out the threads and use the supplied nut and spacer to tighten the handlebar clamp.
Design licensed from C.S. Hirose
Spacing of vertical prongs on bag mount: 40 mm (c-c)
Spacing of holes for bag attachment: 200 mm center to center
Weight: Stem attachment: 55 g; bag attachment: 78 g; bolts: 4 g
Made in Japan