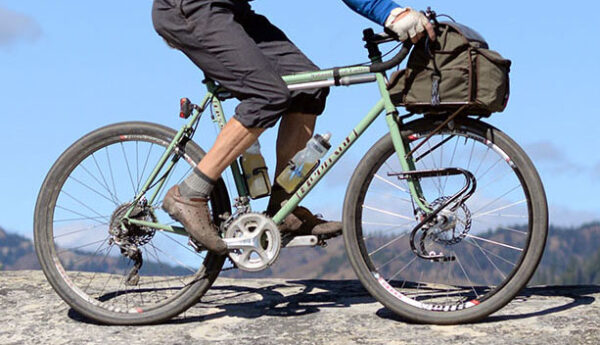 Rene Herse Knickers
$129.00
Look good on and off the bike, yet pedal as hard as you like: Rene Herse knickers combine style with performance. Their slightly roomy fit is comfortable, yet they do not billow like many other casual cycling shorts. Whether on or off the bike, they simply disappear.
Sewn in Seattle, WA, from a synthetic woven fabric with a little stretch, the Rene Herse knickers don't constrict your pedaling, no matter how fast (or slow) you are riding. We've worn them in 24-hour Flèche rides and even Paris-Brest-Paris. The fabric wicks moisture, so it is comfortable even in very hot weather. The cuffs below the knees are elastic and adjustable. The waist is both elastic and features a belt, so you can dial in your fit.
Three pockets hold your cell phone, (small) wallet and keys – one pocket for each. The pockets are placed so that their contents don't move around and inhibit your pedaling.
The knickers don't have a pad, so you can wear them off the bike as well. (We've found them perfect for back-country hiking). On the bike, simply wear your normal cycling shorts underneath them. They also pack so small that you could just stuff them in your jersey pocket and then wear them when you arrive at your destination. They fit over your cycling shoes, so they are easy to put on. But once you wear them, you won't want to take them off!
Pro Tip: The thin fabric of the Rene Herse knickers does not work well with rough or 'non-slip' saddle surfaces, which tends to abrade the fabric. Fabric abrasion is not covered by any warranty.
Update 3/2023: The knickers have been discontinued. Our supplier here in Seattle no longer is able to make them for us.
Moisture-wicking synthetic fabric with a little stretch
Adjustable, webbing-belted waist
Adjustable cuff below knee with hidden elastic drawcord
3 zippered pockets
Mesh vent panel on back
Pack small and weigh little
No pad – wear on and off the bike
28″ size: 17.5″ inseam 30″ size: 18.25″ inseam 32" and 34" size: 18.50″ inseam
Weight: 235 g (36 size)
Made in Seattle, USA