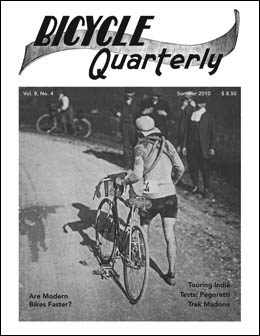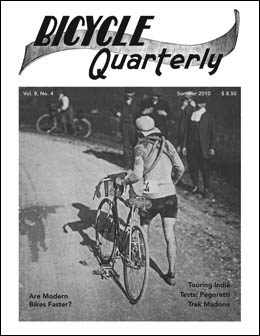 BQ 32 (Summer 2010)
$9.75
Vol. 8, No. 4
Are Modern Bikes Faster?
We looked at the speeds of the Tour de France and in the one-day race of Milan-San Remo over time to see whether changes in equipment correlated with increased speeds. To eliminate the influence of changes in human performance, whether through better training or doping, we compare the cycling performance with the speed of medium-distance runners. To our surprise, the biggest changes in racing speeds since World War II occurred at times when the bikes did not evolve at all…
We compare this study to one heralded as "the first scientific performance comparison" of a modern carbon bike with a 1980s steel bike. We find that the test is flawed in many ways, most of all because the steel bike did not fit the riders, whereas the carbon one did!
We try to unravel the mysteries of 1920 bicycle geometries, wondering why builders chose slack head angles and very long trail figures for their machines. We build a bike with the geometry of a 1920s racer, and test it on roads that mimick the conditions racers experienced back then. The results are instructive…
We reprint training advice from the 1930s, which includes useful advice on food, bike fit, and training. Surprisingly, most of the advice is still valid, for example: "Don't say: 'I will get used to this position.' You should be at ease from the first pedal stroke."
We test two modern bikes, a Trek Madone and a Pegoretti Love 3. The Trek proved itself a competent machine, but the storied Italian steed underwhelmed us (causing a firestorm online mostly from fans who hadn't read the article).
More fun than all the technical articles is Jada Van Vliet's report on her tour of India on a locally-made 3-speed bicycle. Jada's unfalteringly positive attitude is infectious, and after reading her story, you'll want to join the stream of cyclists carrying everything from bricks to live sheep across India's roads.
Features:
4 Travel: Cycling Adventures on the Indian Subcontinent
12 Obituary: Bill Hurlow, 1921-2010
14 Obituary: Phil Wood, 1926-2010
16 Classic Bikes: Colnago's Small-Wheeler
34 Frans Pauwels, Founding Father of Portland Bicycle Racing
40 Training Advice (1939): How to Become a Bicycle Racer
70 My Favorite Bike: Bob Daniel's 1961 Ideor Professional
Reviews:
18 Bike Test: Trek Madone 5.2
22 Bike Test: Pegoretti Love 3
61 Book Reviews: Fixed, 1904
64 Tests: Iribe Bottle Cage; Paul Racer M brakes; Woolistic Superlight Jersey; SKF Bottom Bracket (update)
66 Test Upate: Civia Hyland
Tech:
44 Are Modern Bikes Faster?
56 In the Press: Another Study of Bicycle Performance
58 Unraveling the Mystery of 1920s Geometries
News:
15 Events: Ken Taylor at Seattle Bike Expo
68 Readers' Forum