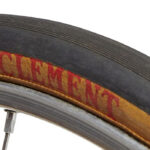 BQ 54 (Winter 2015)
$9.75
The Winter 2015 Bicycle Quarterly's theme is "Riding with Friends".
We test the Elephant National Forest Explorer, a bike made for gravel roads by riding it to the Bicycle Quarterly Un-Meeting. How does it perform when riding with friends on gravel roads and trails? And how did it and its extra-wide tires handle the ride to the event?
Tom Moran reports on a ride to the "Magic Bus" (of Into the Wild fame) with an Alaskan friend that is much more than just a winter fatbiking adventure.
Jan's ride in this year's Paris-Brest-Paris turned from a quest for speed into a ride with friends, both old and new, over the backroads of France. And it was all the better for it.
Riding through a typhoon doesn't sound like fun? Unless it's a great ride with friends that ends at one of the most beautiful Onsen hot springs in Japan.
We visit Jean Hoffmann, a randonneur who turned professional racer and rode in the Tour de France before returning to randonneuring. After looking at the photos from his archives, we join him for a ride up a small mountain pass in central France. 
We have a studio photo feature that shows the details needed to make a randonneur bike Rinko-compatible, with full fenders, generator-powered lighting and even low-rider racks. A related feature talks about optimizing the design of low-rider racks.
How to mount fenders on a bike that isn't quite designed for them? We show you a few neat tricks that solve common problems.
We also test the Gevenalle brake/shift levers, which present an alternative to the systems from the "Big 3". We try out a Swift Industries handlebar bag and the Haulin' Colin Porteur rack.
Our "Skills" column talks about maintaining traction on wintry roads, whether it's in rain or snow. Our "Icons" feature looks at the old Clement silk tubular tires. And we have a lively discussion about last issues Specialized Diverge test bike in the "Letters" and much more.
FEATURES
6 Fatbiking to the Magic Bus
18 The Race to the Butter (Procuring food in occupied France)
20 Paris-Brest-Loudéac...and Loudéac-Paris
34 Jean Hoffmann: Randonneur to Racer and Back
57  The 2015 Bicycle Quarterly Un-Meeting
58  The Old Road to Houshi Onsen (cyclotouring during a typhoon)
94 Skill: Maintaining Grip on Wintry Roads
92 Icon: Clement Paris-Roubaix Tubular Tire
REVIEWS
40 Bike Test: Elephant National Forest Explorer
80 Test: Gevenalle Brake/Shift Levers
82 Test: Swift Industries Ozette Handlebar Bag
85 Test: Haulin' Colin Porteur Rack
87 Update: Dromarti SPD Shoes
91 Update: 2 Years on the Islabikes Luath
TECH
68 How to Make a Rinko Bike
74 Low-Rider Rack Design
78 Other Rinko Systems
88 Metal Fender Installation
NEWS
4 News: NAHBS Rando Shootout, Randonneur Handlebars, MAFAC Tool
92 Readers' Forum