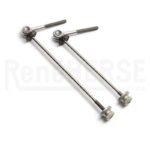 Tune Quick Release
$109.00
Tune in Germany pioneered ultra-light quick releases. There are many copies now, but none match the quality, safety and elegance of the originals. Tune has upped the game by incorporating carbon into the lever to save a little extra weight, making these the lightest fully functional quick releases you'll find anywhere: The pair weighs just 37 grams. Most of all, Tune quick releases are beautifully made, unobtrusive and grip the wheel tightly.
A patented anti-friction coating on the washer ensures smooth operation. Even with titanium skewers, we found that the clamping force is more than sufficient for high speeds on the rough gravel roads of the Cascade Mountains, where we test all components before we offer them for sale. (If your bike has horizontal dropouts, you'll probably need steel skewers to prevent the wheel from sliding forward during high-torque standing starts, and these may work for you.)
Sold as a pair. Springs to center the quick release—making it easier to install the wheel—are included (not shown).
Pro Tip: A drop of blue Loctite or a little beeswax on the threads keeps the adjustment of the quick release when you remove the wheel.
For dropout spacing: front: 100 mm; rear: 126-130 mm
Skewer: titanium
Nuts: aluminum
Lever: aluminum and carbon
For bikes with vertical dropouts only
Weight (front & rear): 37 g
Made in Germany