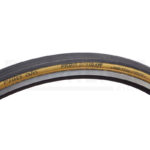 FMB Paris-Roubaix Tubular
$139.00 – $179.00
Tubular tires don't get better than this: With a little extra width, the Paris-Roubaix dials up the speed, comfort and traction of FMB tubulars to the ultimate degree. Whether you are heading onto the cobbles of Paris-Roubaix, a smooth gravel road, or even pavement, you won't find a better tubular tire!
Cotton casing for all-round performance
Silk casing for the ultimate in supple speed
FMB tubulars are made by hand in a small workshop in Brittany, France. The tread is glued to the inflated casing to avoid the inbuilt stresses that occur with 'flat-glued' tubulars. This means that the tread absorbs less energy when it deforms as the tire rolls along. The result is a faster, more supple tire. These are the tires that professional racers buy with their own money for their most important races.
Made in France.
700C x 27 mm
700C x 30 mm
Silk or cotton casing
Ultra-fine threads (Read here why we TPI isn't a good measure for tire suppleness)
Latex tube
Tubular tire (requires tubular rim)