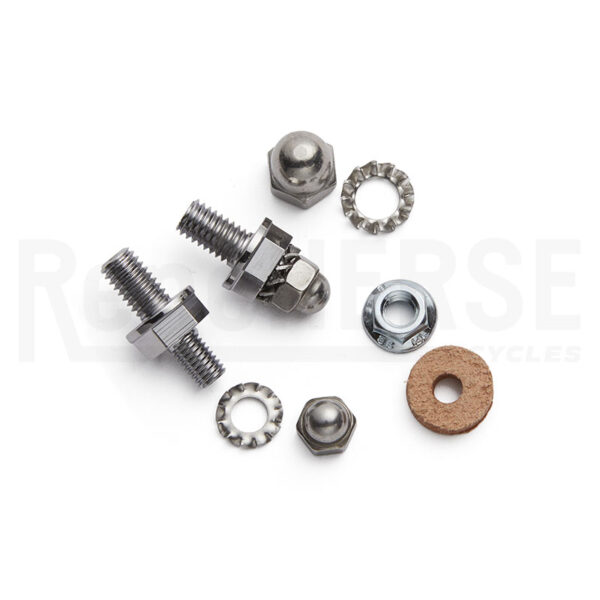 Rene Herse M-13 Wide Front Rack for Cantilever Brakes
$199.00
Equip your bike with one of the lightest, most elegant racks ever made. The Rene Herse M-13 rack fits many bikes with cantilever brakes.
The Rene Herse M-13 rack is fillet-brazed from superlight and super-strong Cromoly steel tubing, with a plated finish for durability. The elegant tabs for mounting the rack to the cantilever bosses are brazed into the ends of the rack support tubes, like dropouts on a classic bicycle frame. (Other racks often use plates welded to the ends of the tubes or just squeeze the tubes and drill a hole.) At 180 g, the M-13 Extralight is one of the lightest racks available today.
The optional 'standing' light mount that gives you a choice among a wide range of lights. (Use with Rene Herse Light Mounting Bolt.)
Also available without light mount. (Two eyelets give you the option of mounting a light using the Rene Herse Light Mount.)
Pro Tip: The M-13 rack requires a distance between fork crown and centerpull bosses of 100 mm. If your bike's specs are different, use the adjustable Rene Herse UD-2 rack.
Scroll down for complete specs.
Attaches to fork crown and cantilever brake pivots
Does not work with Paul Racer; these brakes extend forward of the pivot
75 mm between cantilever bosses, 100 mm from fork crown
Requires 6 mm hole all the way through the fork crown
Fork crown bolt is 40 mm long. If crown is thicker than 35 mm, use recessed nut (for brakes).
Made in Japan to Rene Herse Extralight specifications
Cromoly steel tubing, chrome-plated for durability
Custom hardware for secure attachment
Platform: 165 mm x 90 mm (Backstop: 48 mm)
180 g (rack with light mount); 23 g (hardware)
Load limit: depends on terrain, riding style, tire size and pressure. Tested to 10 kg (22 lb) on a lab 'torture' machine and in the field.
Made in Japan.
The racks are supplied with custom hardware:
2x Rene Herse rack/brake bolts (M6/M5)
2x M5 domed nuts and serrated washers
M6 nut for fork crown mount
Nut with built-in washer and leather washer for fender mount
Optional light mount on left side