Posted by:

Jan Heine
Post Date:
22 Apr 2019
---
Celebrating Earth Day
Jan Heine

Today is Earth Day – a day to celebrate our planet and think about what each of us, in our daily lives, can do to protect it. As cyclists, we get to enjoy nature in immediate ways: As we pedal over hill and dale, we feel the landscape, we smell it, and we become part of it. We also can make a great contribution to preserving it.
Cycling as a commuter can replace car trips and make a significant impact on the biggest threat facing our planet: climate change. It can also do the opposite, if I ride in distant places and drive (or even fly) to the start of my rides. Few of us can live car- and plane-free lives, so I think of myself as having a 'carbon allowance.' If I travel overseas, I try to combine trips that meet suppliers, visit family and ride my bike. Still, flying uses much of that 'carbon allowance.' In daily life, I ride from my doorstep – or take the train – when it's possible.
The things we buy have a large impact, too: Manufacturing and distributing goods takes a large portion of the resources we consume. Buying quality things that I enjoy for a long time reduces the impact considerably. Do I need five bikes? Perhaps I would enjoy one truly great bike more? This wouldn't just reduce the manufacturing by 80%, but the great bike will last longer, too.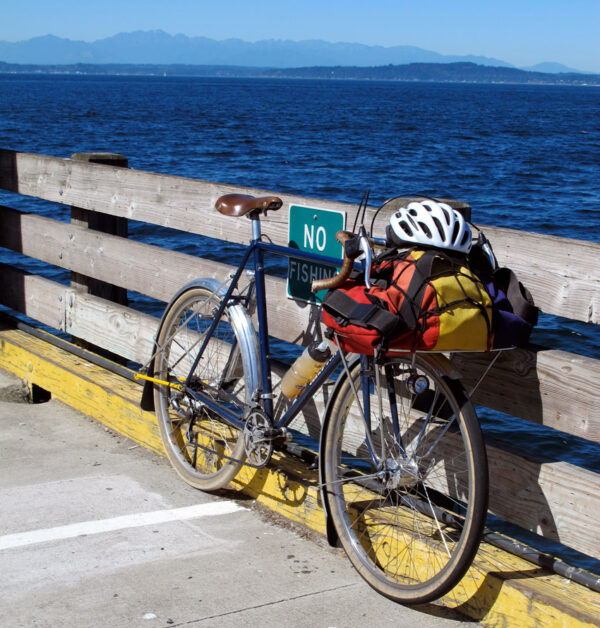 When we shop, do we really need same day delivery? Do we want drivers to head out from distribution centers with just our package in their cars? Or is standard ground shipping, transported together with thousands of other parcels in a fuel-efficient truck, going to be just fine?
This blog is read by many in the bike industry, and it's important to remember that, as manufacturers, our actions have a big impact. Let's try to make products that can be enjoyed for a long time. Let's support them in the long run. Can we prolong the lifespan of our parts by making them easy to upgrade? Sometimes, we can: Our new Rene Herse 11-speed cranks use a chainring that can be installed on all cranks we've made since 2011, bringing them up to the newest spec.


An aspect that we hear little about is reducing waste in production. This starts with selecting manufacturing processes that don't waste material. For example, forging cranks (above) isn't just stronger, it also uses just the right amount of metal. It continues with designing our parts carefully – recalls aren't just dangerous for customers, they also waste a lot of parts. And it finishes with supervising production to make sure all our parts meet quality control from the onset. The latter is a bigger problem than I thought: When I visited the component plants in Taiwan, I was shocked by the size of the junk bins full of parts that were rejected before they even left the factory.


Looking back at the history of Earth Day, we've come a long way: No longer do we suggest that selecting a paper bag instead of plastic at the grocery store has a meaningful impact. Yet in many other ways, our consumption of resources has spiraled out of control. Each of us can make a difference. This doesn't just reduce our own impact, but also can inspire others to do the same. Because living consciously creates great joy, and that is contagious.
So let's celebrate our beautiful Earth by going for a ride today!