Posted by:

Jan Heine
Post Date:
29 Jun 2020
---
How to Select Your Rene Herse Tires
Jan Heine
Selecting Rene Herse tires for your bike is easy, because our program is logical and simple. It's all based on performance. We started making tires because we wanted to ride high-performance tires on the gravel roads of the Cascade Mountains. We came from a decade of racing on hand-made tubulars on the road and in cyclocross, and we wanted the same feel and performance in wide clinchers for our adventures.
Back then, wide tires existed, but they were heavy touring tires. When you come from 240 g tubulars, it's hard to fall in love with 600+ g tires! It wasn't just the weight, the thick casings and heavy rubber coatings made these tires sluggish and slow. So we decided to make our own tires. We started out with the most supple high-performance tires and developed them into wide tires that are strong enough for everyday use.
Even today, most 'gravel' tires are still based on touring tires. They still weigh 450+ grams even in the narrower sizes, and they still have stiff casings. To make their tires more exciting, many makers offer a myriad of different tread patterns. The idea of a specific tire for each condition may appeal to techies, but the truth is that small changes in knob shape don't change how a tire performs. More than one tire engineer has told me: "Those knob shapes are all about style." To most riders, it just makes choosing tires needlessly complicated, when they all perform more or less the same, because they all have the same casings.
Why doesn't everybody use high-performance casings? It's not just that they are expensive, but they are also too fragile for use in factories that are churning out millions of tires for OEM use. True high-performance tires have to be hand-made. And the factories that make most 'gravel' tires aren't equipped for that.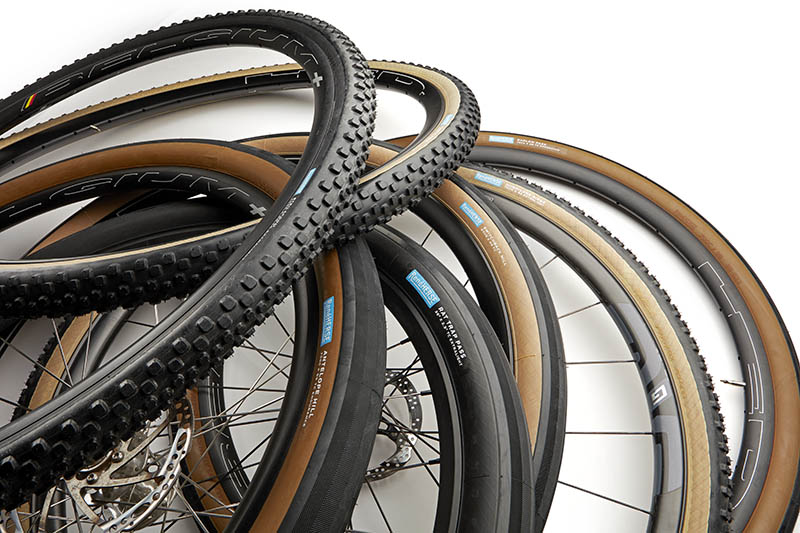 Beyond that, there is proprietary technology in our Rene Herse tires that makes them lighter than most, without making them paper-thin. We don't make event tires, but high-performance tires for everyday riding. It's all about choosing the right compromises, and it's the result of more than a decade of experience with this type of tire. Each new Rene Herse model incorporates new technology, and the old ones are updated from time to time to remain ahead of the pack.
So how do you select the right Rene Herse tires for your bike? We offer a lot of different models, because each fills a different need. That makes it easy to choose your tires. Here's how to find the right tire for your bike and your riding style.
Step 1: Wheel Size
Rene Herse tires are available in the three popular wheels sizes (700C/29″, 650B/27.5″, 26″), giving you choices no matter what wheels you have on your bike.
Step 2: All-Road or Dual-Purpose Knobby
We offer just two tread patterns, because they cover 99% of the conditions you'll encounter on your rides. All our tire treads are black, because black rubber offers the best traction and wear resistance.
If you ride mostly on pavement, the choice is easy: Our all-road tread pattern has fine ribs that interlock with the road surface and offer superior grip, especially in wet conditions. We also recommend our all-road tread for most gravel roads, where rocks sliding on other rocks limit your grip, and tread patterns make little or no difference. Ted King rode our Snoqualmie Pass tires in the Unbound gravel race across the Flint Hills of Kansas without any problems.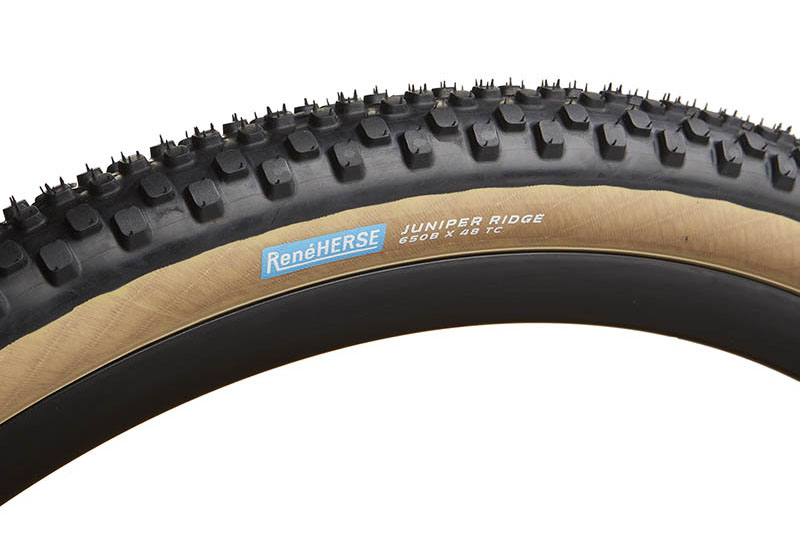 If you prefer more tread for loose conditions, and especially if you may encounter mud or even snow on your rides, choose our dual-purpose knobbies – even if a significant part of your rides are on pavement. We've designed our knobs so that they roll smoothly and don't squirm: Our knobbies offer close to the same speed and cornering grip on pavement as our class-leading all-road tires. And our newest knobbies even use noise cancellation technology to make them quieter than you'd ever think a knobby could be. Despite their excellent on-pavement performance, the big knobs are widely spaced, so they grip tenaciously when other tires start sliding.
Since the performance envelopes of our two tire treads overlap, you can't really go wrong. We know riders who've taken their Rene Herse knobbies on all-paved brevets to qualify for Paris-Brest-Paris, and we've taken the smooth all-road tires on some pretty extreme adventures. You'll be fine in most conditions on either tread pattern.
Step 3: Choose your tire size
Rene Herse tires are available in widths between 26 and 55 mm. Can't decide on a size? We usually recommend the widest tires you can easily fit on your frame. Not sure how wide a tire will fit? Check out our post about how to measure your frame's tire clearances.
Still not sure? Don't sweat it: The supple casings of Rene Herse tires have a bigger impact on ride quality and performance than a few millimeters in width. When in doubt which of two sizes will fit your bike, go with the smaller size. Better to have a little extra clearance than a tire that rubs. If you find that you have extra clearance, you can always size up when your tires wear out.
Step 4: Choose your casing
This is where you'll make the biggest difference in the performance and feel of your bike. Most of us around here ride Extralights – there's nothing else like them, and once you've ridden them, you won't want to ride anything else. We ride them on some pretty rough terrain, too. Thanks to their greater widths and lower pressures, there is much less risk of slashing a sidewall than you might think. Lauren de Crescendo won SBT GRVL and Gravel Worlds on Extralights.
The Standard casing is a great all-round option, with the supple performance and great ride that has made our tires famous. The threads that make up the casing are a little thicker than the super-fine Extralights, which makes them a little more durable and also more economical. They're still plenty fast – our Bon Jon Pass Standard scored fourth-fastest of all tires that TOUR magazine has ever tested.
If you get too many flats on your rides, or if you're heading into rough terrain, we recommend our Endurance casing. It uses the same ultra-fine threads as our Extralight, but in a denser weave for greater durability, plus with an extra protection layer that wraps around the sidewalls and tread. It's still a high-performance tire, as evidenced by its weight: Our Endurance tires are lighter (and more supple) than the 'light and supple' casings from other makers.
The Endurance Plus is a true adventure tire. It's one of the toughest tires you'll find this side of a downhill mountain bike tire. It's the tire you choose when you are heading into the unknown, where a slashed tire would mean walking for days until you reach civilization. It's still remarkably light and speedy for such an ultra-tough tire.
That's all there is to choosing your Rene Herse tires. It's simple and logical. Of course, there are always more questions…
What about combining knobby front tire with smooth rear tire?
This makes sense on mountain bikes: When you ride technical terrain, you need to turn the handlebars suddenly, and front tire traction is crucial. By comparison, the rear tire turns much less sharply and on a larger radius, so it doesn't need as much traction. On last year's Solstice Ride, there was a lot of technical singletrack, so Ryan ran a knobby on the front.
On gravel roads, you're going too fast to turn the handlebars sharply. When cornering at speed, you need as much traction on the rear as on the front, so there's less reason to mix-and-match different tread patterns.
We've made our knobby and all-road models in the same widths, so you can mix-and-match them. (The 42 mm Hurricane Ridge knobby is a tad narrower than the 44 mm Snoqualmie all-road tire, so the two fit into the same space, even on frames with limited clearance.)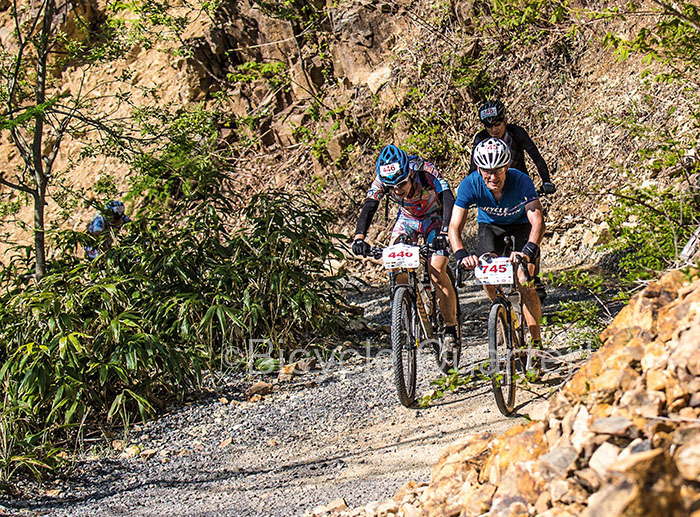 For general riding, should I chose the Endurance casing?
Not necessarily. The Endurance is a great choice, but if you don't get many flats, and the terrain where you ride isn't littered with sharp rocks, the Standard or even the Extralight are great tires with a more lively feel. Personally, I'll take the Extralights almost anywhere, whether it's the all-paved 1200 km Paris-Brest-Paris or the ultra-tough Otaki 100 km Mountain Bike Race (above).
Which Rene Herse models are tubeless-compatible?
All current-production Rene Herse tires that are 35 mm or wider are tubeless-compatible (except 650B x 38 Loup Loup Pass). They also carry 'TC' in their name, and they are marked 'tubeless-compatible' on the package.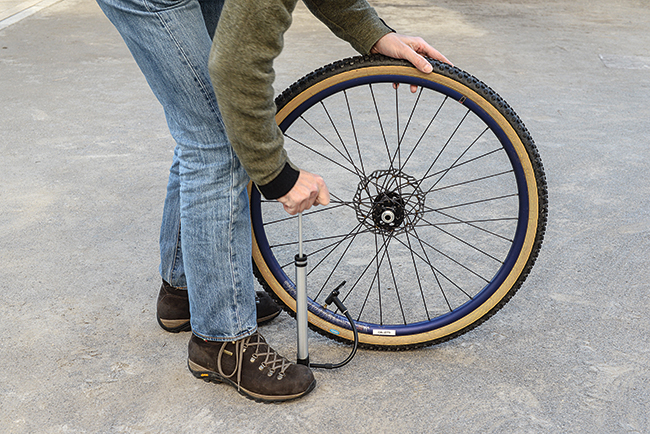 Which Rene Herse casing sets up easiest tubeless?
There are many variables that affect how easily a tire sets up tubeless. The most important is the rim diameter, which can vary quite a bit even among the same model of rim. I've set up many Extralights tubeless without running into trouble – and I don't even have a compressor, just a standard floor pump (and, when I travel, just a mini-floor pump). That said, the extra protection layer of the Endurance and Endurance Plus also makes these tires easier to set up tubeless. Make sure to check out our illustrated how-to instructions before you set up your tires. There are some tricks that make it much easier to set up supple tires tubeless.
Why is the 44 mm Snoqualmie Pass lighter than the 38 mm Barlow Pass?
Excellent question! The 38 mm Barlows are already quite light at 350 g for the Extralight, but the 44 mm Snoqualmies are true featherweights at 330 g. That is lighter than many narrow 'racing' tires.
Here's the reason for the weight difference: The 38 mm Barlows are our widest 'narrow' tires. So their tread is a little thicker in the center to improve the durability. The 44 mm Snoqualmies are our narrowest 'wide' tires. Since the wear is spread over a larger area, the center tread doesn't need to be as thick as on the narrower tires. And when we designed the Snoqualmies, we were thinking specifically of gravel racers like Ted King and Lauren de Crescenzo (above), who won SBT GRVL and Gravel Worlds our Snoqualmie Pass tires. So we made them a little lighter and even faster than our other tires. The difference is small, but if you can fit the Snoqualmies, you'll love the ride!
Photo credits: Nick Keating (Photo 1), Toru Kanazaki (Photo 12).