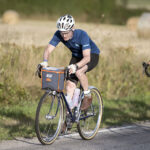 80th Anniversary Rene Herse Bike Down Payment
$100.00
$ 13,900 – $ 14,200: Full cost of 80th Anniversary Rene Herse
To celebrate 80 years of Rene Herse bikes, we're excited to offer a limited edition of 8 complete bikes. These are the bikes that we use for our own adventures, whether we are exploring the long-lost gravel passes of the Cascade Mountains or set out to 'do a time' in the 1200 km Paris-Brest-Paris.
René Herse entered the cycling world in 1938, when he introduced innovative superlight components that drew on his experience making prototype aircraft components. A few years later, during the German occupation of Paris, Herse provided work to many skilled craftsmen who were hiding from the Germans. At the same time, Herse started building complete bicycles in 1941.
Herse developed his bikes until they became the standard by which all others were judged. He continued to apply aircraft standards to his bikes, making them not just light and fast, but also extremely reliable. More recently, his 1950s machines have been the inspiration for today's all-road bikes.
Over the last decade, we've refined these bikes further, so they now equal the performance of the best racing bikes, but with the comfort and go-anywhere ability of wide tires, and aircraft-style reliability. (When you're in mid-air, you can't just stop to tighten a bolt!)
For the 2019 Paris-Brest-Paris, we built another Rene Herse that incorporated further refinements. Now, to celebrate 80 years of Rene Herse bikes, we're offering a very limited run of eight bikes built to the same blueprint.
Colors: The 80th Anniversary Rene Herse bikes will be available in a choice of three colors:
A dark blue inspired by cresting the iconic Tourmalet at midnight during the Raid Pyrénéen, the 720 km non-stop ride from the Atlantic Ocean to the Mediterranean Sea.
Medium Blue Gray: A modern take on the color of the Rene Herse team bikes that dominated randonneuring events during the 1950s. With a touch of gray, the new color evokes the big sky and dry landscapes of the Oregon Outback.
Classic Black: Many of Herse's randonneur bikes were simply black, because the workmanship and beautiful lines of the bikes spoke for themselves.
Availability: With only eight bikes available, not everybody will be able to get one. We're asking riders what they plan to do with the bikes and why they want one, and allocate the bikes based on that – just like René Herse did 50 years ago with the riders he equipped as part of his team.
To order, please choose your bike below, then head to 'checkout' and describe in a few words under 'Comments': What is the favorite bike you currently own? Why do you want to order a Rene Herse? The $ 100 is a down payment – it'll be refunded if you don't get a bike.
The cost of the complete bike is $ 13,900 – 14,200, depending on the specification. If you are on the list to get a bike, we will ask for a 50% deposit. Another 25% is due when the frame is about to be built. The remaining 25% is due when the frame is complete, before it is assembled. Once your order is accepted, deposits are no longer refundable.
After we take your order, we will contact you to discuss the specification of your bike (tube selection, etc.) in detail. Once the specification is established, it will be final.
Delivery will be in 2022 – early in the year if all goes well, but we're not making promises! Your bike will be shipped fully assembled, with the fork, rear wheel and rear portion of the fender removed, in its Airplane Rinko Bag.
These bikes are built together with skilled craftspeople who are irreplaceable. If it becomes impossible to deliver these bikes due to circumstances beyond our control, we may refund the entire purchase price and not deliver your bike.
Cost of 80th Anniversary Rene Herse bike:
With SRAM Force eTap: $ 13,900
With Nivex rear and Rene Herse front derailleur: $ 14,200
Shipping will be charged separately.
Orders will open on August 15 and close on August 25.
Geometry / Handling / Fit:

These bikes are designed with a low-trail front-end geometry for a bent-elbows riding position with a light touch on the handlebars. If you tend to grip the handlebars firmly, these bikes will feel 'nervous,' as they react even to small handlebar inputs.
Like most Rene Herse bikes, the 80th anniversary models has a horizontal top tube and not much standover clearance, if any. In decades of riding, we have found that this is usually not an issue, since you put only one foot down when you stop.
Need a bike in a size outside the range we offer? Want a specific seat tube angle, generous stand-over clearance, or a geometry or fit that we don't offer? Please talk to a custom builder about making a bike for you – we're not expert bike fitters, and we offer these bikes only in the size range and with geometries where we have experience.

Specifications:
Frame: Kaisei tubing (Extralight, Mule or Oversize)
Fork: Kaisei 'TOEI Special' blades, Rene Herse crown, SON SL system
Bottom bracket: Rene Herse pressed-in bearings
Cranks: Rene Herse 12-speed double, titanium crank bolts
Derailleurs, choice of:

Nivex rear, Rene Herse lever-operated front
SRAM Force eTap 12-speed

Rack: Rene Herse CP-1, hanging light mount
Low-rider braze-ons on fork (optional)
Brakes: Rene Herse Centerpull, Rinko, titanium bolts
Brake levers: SRAM
Hubs:

Front: SON delux Wide-Body
Rear: Hope RS-4

Spokes: Sapim Laser, aluminum or brass nipples
Rims: Pacenti Brevet
Tires: Rene Herse 650B x 42 Babyshoe Pass, Extralight
Tubes: Extralight
Stem: Rene Herse
Handlebars: Rene Herse Randonneur or Maes Parallel
Tape: Gilles Berthoud or Maware leather
Decaleur: Rene Herse
Handlebar bag: Berthoud 'Concours de Machines' with Rene Herse stabilizer
Lights: SON Edelux (front), Rene Herse (rear)
Saddle: Berthoud titanium (Galibier or Aravis)
Seatpost: Nitto S-65
Bottle cages: Nitto 80 (2), Nitto T (1), titanium bolts
3 Rene Herse water bottles
Fenders: Rene Herse H-80, tubular stays
Bell: Tiger Bell
Pump: Lezyne
Rene Herse frame pads
Ostrich SL-100 Rinko bag
Rene Herse x Ostrich Airplane Rinko bag
Note: Small frames will be equipped with 26" wheels
Note: Specification may change due to product availability