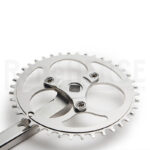 Rene Herse One-By Crank
$455.00
Rene Herse cranks are ideal for one-by setups: Light, strong and easy to dial in. The one-by chainrings have alternating 'thick/thin' teeth that have been optimized to mesh perfectly with the chain. The chain won't derail and fall off even with the extreme chain angles of 11- or 12-speed drivetrains.
We offer a choice of crankarms: If you'll only ever want to run a single chainring, our single-specific crankarms are the lightest and most elegant. Or choose our convertible crankarms that use a custom-machined spacer on the chainring tab – that way, it's easy to install a second (and even third) chainring in the future.
Recommended bottom brackets:
SKF JIS 107 mm for standard 45 mm chainline
SKF JIS 110 mm for 48 mm chainline on bikes with widely-spaced chainstays
Most other bottom brackets have slightly thinner spindles—use a BB spindle that is 2-3 mm longer than SKF.
Rene Herse crank bolts and pedal washers are included. Cranks are custom-assembled based on your order. Please allow 7-10 days until your order can ship.
Pro Tip: For 12-speed drivetrains, we recommend the SRAM flat-top chains for Rene Herse one-by cranks. For 11- or fewer speeds, most chains work well. We recommend SKF JIS bottom brackets.
Bottom bracket:

JIS taper
for 45 mm chainline: 110 mm spindle (SKF 107 mm)
for 48 mm chainline (most bikes): 113 mm spindle (SKF 110 mm)

Narrow Q factor: 139 - 145 mm (depending on spindle length)
Length: 165, 171, 177 mm
Compatible with 5- to 12-speed chains
Weight:

Arms only (165 mm): 372 g
Complete crankset (171 mm, 40-tooth chainring): 476 g

Forged 2014 arms for high strength
CNC-machined 7075 chainrings for long wear
Meets EN "Racing Bike" standard for fatigue resistance
Assembled in Seattle from parts made in Taiwan and USA
10 year warranty