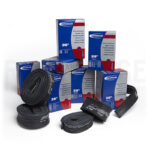 Tubes for 650B and 26″ Tires
$8.00 – $14.00
Quality tubes can be hard to find, and we have had problems with split seams and valves coming loose on 'no-name' tubes. Schwalbe's tubes have been very reliable.
Presta valve. Butyl tube.
Pro Tip: Where two sizes overlap, we recommend the smaller size. Quality tubes can stretch, but a tube that is too large will be difficult to fit into the tire.
SV11A (96 g) is for:
Elk Pass 26″ x 1.25″ (30 mm)
SV12 Standard (149 g) is for:
650B x 32-42 mm
26″ x 1.5″ – 1.8″ (35 – 44 mm)
SV13 Standard (183 g) is for:
650B x 43-55 mm
26″ x 1.5″ – 2.4″
SV14 Extralight (130 g) are for:
650B x 37-55 mm
26″ x 1.5″ – 2.3″ (35 – 58 mm)
Made in Indonesia or Vietnam.
Presta valve
Removable valve cores
Note: The packaging on some tubes is marked 26" and may not note compatibility with 650B (ISO 584). Don't worry: These tubes are compatible with our 650B tires. (The diameter of a 650B tire is only 4% larger than 26" tire, and tubes easily stretch that much.) For example, the SV14A is what we use in our own 650B x 42 tires.