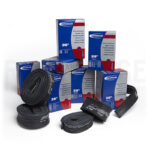 Tubes for 700C Tires
$8.00 – $14.00
Quality tubes can be hard to find, and we have had problems with split seams and valves coming loose on 'no-name' tubes. Schwalbe's tubes have been very reliable.
Presta valve. Butyl tube.
Note: During the current tube shortage, some models are only available without boxes. We appreciate your understanding.
Compatibility note: SV20 extralight tubes must be used with rims that are 19 mm wide or narrower (internal width).
Pro Tip: Where two sizes overlap, we recommend the smaller size. Quality tubes can stretch, but a tube that is too large will be difficult to fit into the tire.
Presta valve
Removable valve cores
Made in Indonesia or Vietnam
700C x 18-28 mm (SV15), 112 g
700C x 29-32 mm (SV16), 123 g
700C x 33-47 mm (SV17), 150 g
700C x 40-62 mm (SV19), 220 g
700C x 18-26 mm Superlight (SV20), 65 g
700C x 28-45 mm Superlight (SV18), 107 g
700C x 40-62 mm Superlight (SV19A), 140 g