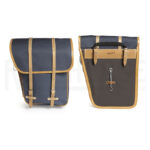 Berthoud Panniers
$420.00 – $499.00
Berthoud panniers combine water-resistant durability with handcrafted style. They've been around for decades, and they seem to last forever. The laces on the larger models allow adjusting the volume, from a quick overnight trip to a round-the-world tour.
The traditional mounting system, with leather straps and a steel spring, tensions the panniers, so they don't rattle. The straps fit on (almost) any rack. The buckles make the panniers are harder to remove, which acts as a theft deterrent when you leave the bike unattended: You don't want to carry all your bags every time you visit a cathedral or museum!
We offer these special models in the classic blue-gray color and in black-on-black. Both colors develop a nice patina over decades of use.
Sold as pairs.
Pro Tip: We use the largest GB 372 and usually carry our entire load on a front low-rider for the best handling and performance.
Leather straps and metal spring
Attach to almost any rack
Don't rattle
Waterproof cotton
Leather edging (tan) or nylon edging (black-on-black)
Laces for adjusting volume
GB 1500 (small): 25 liter/pair, 21 x 35 cm (8.5″ x 14″). Single leather strap. Spacing between rack attachment straps: 16 cm. Weight: 1380 g.
GB 367 (medium): 33 liter/pair, 31 x 35 cm (12″ x 14″), tapered for heel clearance. Double leather strap. Spacing between rack attachment straps: 18 cm. Weight: 1750 g.
GB 372 (large): 39 liter/pair, 35 x 35 cm (14″ x 14″), square shape – ideal for carrying on the front. Double leather strap. Outside pockets. Spacing between rack attachment straps: 18 cm. Weight: 2150 g.
Made in France