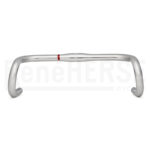 Rene Herse Maes Parallel 31.8 Ø Handlebars
$115.00 – $139.00
One of the most comfortable and beautiful handlebars ever made. Based on classic racing handlebars from the days when stages were long, with periods of easy spinning interrupted by fast-paced attacks and chases – just like many modern weekend rides.
The long, flat ramps give you room to roam. Put your hands near the back for an upright position during easier efforts. Slide forward when it's time to 'put down the hammer.' Ramps and drops are parallel, which makes for a very elegant handlebar and gives you room to move around – much-appreciated when you are facing headwinds.
Pro Tip: Select your stem 10-20 mm shorter than you would with most handlebars, to compensate for the longer reach. Your position 'on the hoods' should be a little more stretched out than before, the 'on the tops' position will be a bit closer, and you'll enjoy the long, flat ramps for an intermediate position. That way, you can fully benefit from the wide range that these bars offer.
31.8 mm clamp. Also available with 25.4 mm clamp diameter.
Handlebar widths are center-to-center.
Drops: 400/420/440/460 mm wide
Ramps: 360/380/400/420 mm wide (bars flare outward)
Reach: 115 mm
Drop: 125 mm
Clamp diameter: 31.8 mm
Width of clamp area: 40 mm
Weight: Superlight: 298 g (420 mm); Lightweight: 345 g (440 mm)
Rene Herse Superlight handlebars are made from extra-thinwall aluminum. This specification can only be used for handlebars up to 420 mm wide.
Rene Herse Lightweight handlebars are made from slightly thicker, but still very light, aluminum to compensate for the longer lever arm of the wider bars.
Heat-treated for ultimate strength
All Rene Herse handlebars meet the most stringent EN 'Racing Bike' standard for fatigue resistance.
Polished (aluminum) finish
Made in Japan
5 year warranty