Posted by:

Jan Heine
Post Date:
25 Aug 2023
---
A Hard Paris-Brest-Paris
Jan Heine
The 1200 km of Paris-Brest-Paris are never easy—the relentless hills will see to that—but the best rides are those where working hard is almost pure pleasure. It's not that the pedals turn by themselves—you feel your legs working hard, but all you notice is what the French call "the taste for the effort." Paradoxically, it's those 'almost easy' rides where we usually get our best results.
And then there are rides where our legs simply don't put out the power they usually do. This year's PBP was one of those rides. Even two 30-minute sleep breaks—one in Brest at the half-way point and one just before Tinténiac around kilometer 850—didn't make things better. Afternoon heat and headwinds for significant portions of the ride didn't help, either. But as the saying goes, you have to play the cards you are dealt, and so my challenge became to do the best with what I had. I have to admit that abandoning crossed my mind, but I remembered what Natsuko told me a few years ago: "If you abandon PBP, you'll regret it later. Try to find the good part in the ride." And, as so often, she was right.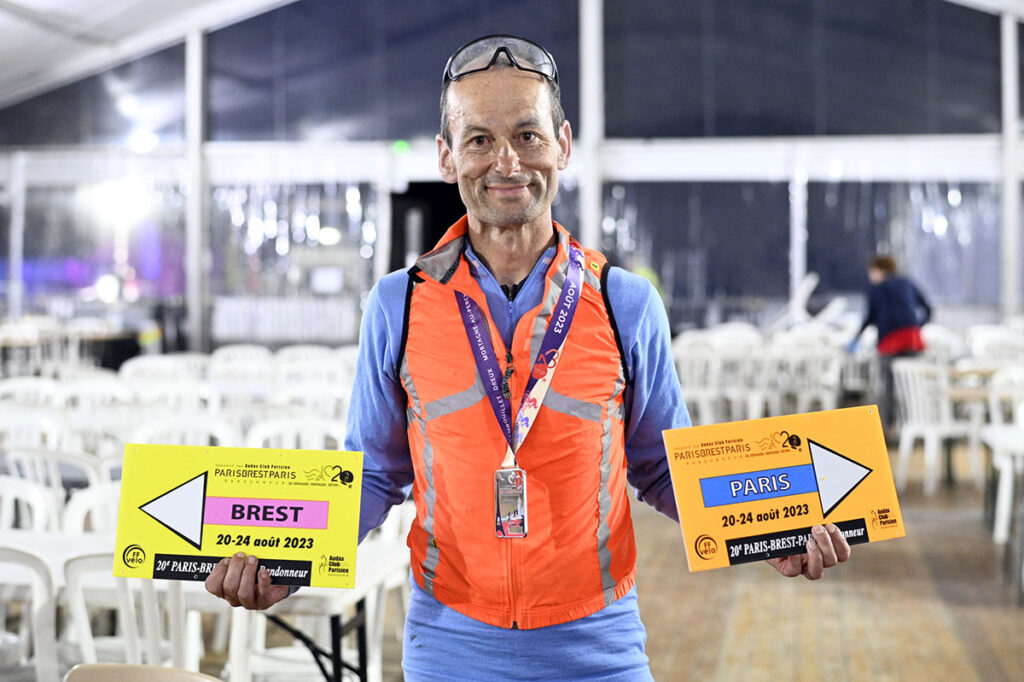 After the hardest 1000 km I've ever ridden, my legs miraculously returned somewhere between Villaines-la-Juhel and Mortagne-au-Perche. I rode with a nice group to Mortagne, then left them after quickly eating a bowl of soup and some rice pudding. The stretch after Mortagne is relentlessly hilly. In the dark, it felt like a series of miniature mountain passes.
I could see other riders above me on the slopes. I felt almost bad when I passed them at speed. The last rider, Michel from Germany, got on my wheel, and we sped to the finish together. The final 50 kilometers turned into an impromptu race through the forests surrounding Rambouillet, as another rider gave chase after we passed him. He was a strong cyclist, and he kept us working at our max.
Speeding through the night, Michel and I took pulls as we raced up the long hills, each working at our absolute max. In the end, we covered the 42 hilly kilometers from the last control in Dreux to the finish in 1:48 hours—compared to 2:02 hours in 2019, when I was riding as fast as I could to make the finish in Charly Miller time. This year's ride will remain in my memory for a long time, and I think I've made a new friend, too.
By pure coincidence, we both were in the same start group, so we both finished the ride in 60:05 hours. It's a respectable result, and that was one of my multi-layered tiers of goals. (The first one was to finish, and that was obviously accomplished as well.) It's nice that my ride ended on a high note.
This Paris-Brest-Paris may have been hard, but already I'm thinking about the next one. It's never easy, but sometimes the hardest rides are the most memorable—and the most satisfying.
Further Reading:
Photo credits: Nicolas Joly (Photos 2-4)