Posted by:

Jan Heine
Post Date:
14 Dec 2020
---
Humptulips Ridge Tires Are Here
Jan Heine
The new Humptulips Ridge 26″ x 2.3″ knobbies have arrived! Usually, we airship just a few tires for photography, but with so many riders eagerly awaiting these tires, we sent over a few more. We have a small quantity with Standard and Extralight casings (tan sidewalls), as well as the Endurance casing (dark tan). Sorry, no black tires at this point, and no wholesale orders until the 'real' shipment arrives.
We've enjoyed the new tires on our own autumn and winter adventures, and we're excited to get them into your hands as well. Now you can enjoy the grip and performance of our dual-purpose knobbies, whether your bike runs 26″, 650B or 700C (29er) wheels.
At the same time, we've also restocked most of our other tire models, but some quantities remain limited. It's no secret that there have been shortages of bike parts this  year, and it's looking to get even more difficult in 2021. Between interruptions of production due to Covid, shipping disruptions, and increasing demand as more people cycle, it'll be a while until things get back to normal. We appreciate your patience when some components are temporarily unavailable.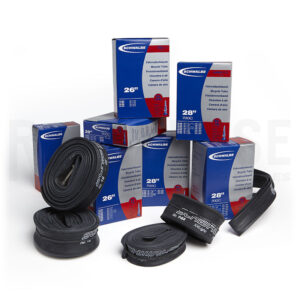 In other news, we're relieved that the Great Inner Tube Shortage of 2020 is ending, at least for now. We just received another shipment of tubes, and most sizes are in stock again. In some cases, we could only get unboxed tubes, but they are the same quality and work just as well. Some quantities are limited, but hopefully, things will normalize further in the near future.
We've also added patch kits to our program. If you're collecting your tubes until you've got a handful to patch, it's quite efficient and not only saves money, but also keeps the old tubes out of the landfill. There are a few tricks to patching tubes; we're working on a post about that.
We're also expecting a shipment from Berthoud Cycles soon – watch this space for an announcement when the popular handlebar mirrors and bags are back in stock. If you'd like to be notified when products come back in stock, make sure to sign up to our newsletter.
We know that our products are essentials for many riders, and we're working hard on having them available at all times. We wish you enjoyable winter rides and a happy holiday season.