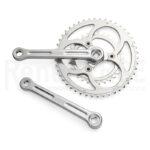 Rene Herse 9- to 12-Speed Double Cranks
$495.00
Finally a 12- and 11-speed-compatible crank that rivals the very best from the big makers in shifting performance, offers chainring combinations useful for most riders, and the beauty and polish of our Rene Herse cranks. The cranks are designed to be 100% compatible with STI (except 12-speed mtb), Ergopower (all versions) and SRAM (all versions). They work equally well with 9- and 10-speed drivetrains, and also with downtube or bar-end shifters.
Net-shape forging the arms – using a dedicated forging die for each crank length – results in optimum grain alignment of the aluminum. This means we can slim down the arms without giving up strength: This is the only small-production crank to pass the most stringent EN 'Racing Bike' test for fatigue resistance, yet it's one of the lightest cranks ever made.
The chainrings are machined from the strongest 7075 aluminum to resist wear. They are designed to work as a dynamic system at 50-130 rpm to ensure smooth and quick shifts.
Recommended bottom brackets:
SKF JIS 107 mm for standard 43.5 mm chainline
SKF JIS 110 mm for 46 mm chainline on bikes with widely-spaced chainstays
Most other bottom brackets have slightly thinner spindles—use a BB spindle that is 2-3 mm longer than SKF.
Rene Herse crank bolts and pedal washers are included. Cranks are custom-assembled based on your order. Please allow 7-10 days until your order can ship.
Bottom bracket: 110 mm or SKF 107 mm, JIS taper for standard chainline
Lengths: 165, 171, 177 mm
Weight:

Arms only (165 mm): 372 g
Complete (165 mm; 42/26): 498 g
Complete (165 mm, 46/30): 522 g
(171 mm): + 6 g.
(177 mm): + 38 g (177 mm arms are thicker for added strength).

Narrow Q factor: 142 mm
For use with 12-, 11-, 10- and 9-speed drivetrains from SRAM, Campagnolo and Shimano (except Shimano 12-speed mtb)
When using with 10- or 11-speed, use Shimano Ultegra chains for best performance (even with Campagnolo or SRAM derailleurs)
With 12-speed, use the chain recommended by the maker of your derailleur/cassette.
Net-shape forged 2014 arms for high strength
CNC-machined 7075 chainrings for long wear
Meets EN 'Racing Bike' standard for fatigue resistance
Assembled in Seattle from parts made in Taiwan and USA
10 year warranty
Click here for instructions for Rene Herse Cranks, SKF Bottom Brackets, and our chart for using the two together.