Posted by:

Jan Heine
Post Date:
9 Aug 2021
---
80th Anniversary Rene Herse Bikes
Jan Heine
To celebrate 80 years of Rene Herse bikes, we're excited to offer a limited edition of bikes and frames. René Herse entered the cycling world in 1938, when he introduced innovative superlight components that drew on his experience making prototype aircraft components.
A few years later, during the German occupation of Paris, Herse provided work to many skilled craftsmen who were hiding from the Germans. Perhaps to keep them employed, Herse started building complete bicycles in 1941. Above is one of the very first Rene Herse bikes, made for his daughter Lyli, who was 13 at the time.
Over the years, Herse developed his bikes until they became the standard by which all others were judged. He applied aircraft technology to his bikes, making them not just light and fast, but also extremely reliable. They were ridden in epic events like Paris-Brest-Paris (above), the Raid Pyrénéen, the Tour de France Cyclotouriste and in tours and adventures all over the world. More recently, Herse's 1950s machines have been the inspiration for today's all-road bikes.
Over the last decade, we've refined these bikes further – above my first Rene Herse during the 2011 Paris-Brest-Paris – so they equal the performance of the best racing bikes, but with the comfort and go-anywhere ability of wide tires, and aircraft-style reliability. (When you're in mid-air, you can't just stop to tighten a bolt!)
Mark Lynskey put it best, after we pitted his titanium racing bike against one of our randonneur machines: "Your bikes have been honed to the nth degree, and it shows!"
Just for the record, the titanium bike climbed just as well as the steel randonneur bike – there are many ways to build a great bike. This is just one of them…
For the 2019 Paris-Brest-Paris, we built another Rene Herse that incorporated further refinements. When Bicycle Quarterly's second tester Mark rode it, he exclaimed: "I want a bike just like this." Our photographer said the same after taking the studio photos. Then the car restorer and machining wizard who made the special Rene Herse bottom bracket spindles for the pressed-in bearings (no creaking, no overhauls for 50+ years) inquired about getting one. And so the idea was born to make a very limited run of these bikes.
The frames will be built by Mark Nobilette. Rene Herse lugs aren't available, and we don't plan to make molds to cast them, so Mark welds the lugs from pieces of tubing and cuts them to a minimalist pattern found on early Rene Herse bikes. Mark is a true master of his craft, not just one of the best brazers in the world, but also a wizard who can fabricate all the special parts needed for a frame like this.
Then the frames go to Peter Weigle who paints them – making sure that the crisp lug detail isn't obscured by thick paint. Peter's paint is also among the most durable I've seen – my bikes have been through a lot, yet there are no paint chips and only a few tiny scratches. The frames are lined and lettered by local artist Donn Trethewey. He's more famous for his work on hot rod cars, but he enjoys the challenge.
Finally, they are assembled by the Rene Herse team to the same standards as our own bikes, with every thread covered with beeswax, all aluminum parts waxed to keep them looking good even after you ride in the rain, etc. This takes a lot of extra time, but it makes sure the bikes are ready to tackle Paris-Brest-Paris or the Oregon Outback without having to worry about bolts coming loose or parts falling off. (We're not saying that you should embark on Paris-Brest-Paris without just two spare tubes and a single allen wrench, like I did with my brand-new bike in 2019…)
The new bikes will start at $13,900. Even at that price, we won't make money on them, which is why the production run is so limited. Just like our own bikes, the new bikes will use the very best everywhere, with no regard to cost. And the small production run for things like bottom bracket spindles and other parts inevitably rises the price, but we have no intention of becoming a bike maker and launching into mass production of these special parts.
At first, it may be surprising that a bike made from steel and aluminum costs more than many top-end carbon bikes. Until you think about it: A cost-no-object handbuilt machine that's been honed to the nth degree will always cost more than a production bike, no matter how sophisticated that production bike is. It's the same in the car world, where a race car made from steel tubing costs more than a production Lamborghini that's made from carbon fiber.
That brings up the question: Do you need a bike like that? The answer is 'No,' of course. There are some things that we consider essential – supple tires and a comfortable saddle come to mind – but I'm not writing this to suggest that you can't have fun on a bike unless it has hand-made lugs, and lettering and lining by a local artist. There are plenty of more affordable bikes that offer great enjoyment and performance. We view these bikes like great works of art – not essential, but the world would be poorer without them. And that's why we're making them.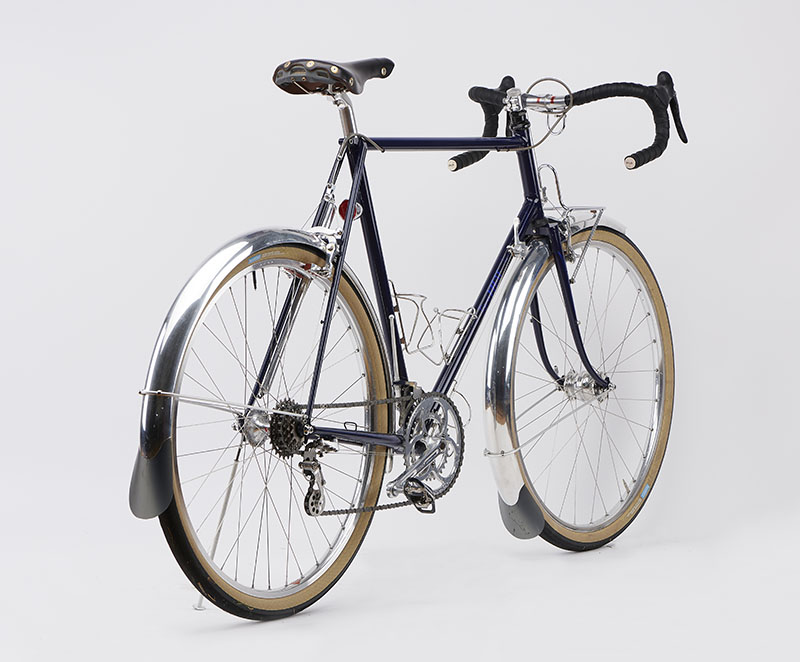 By now, it'll be obvious that these bikes aren't replicas of mid-century originals, but thoroughly modern bikes that have benefited from 80 years of development. These are also not custom bikes in the sense that you can choose the specifications as you want. Instead, we're offering bikes that have been fine-tuned through numerous iterations. When you buy one of them, you get a bike that's already proven itself, not a prototype that may or may not work as intended. This isn't to say that other ways of making a bike aren't as valid… There are many custom builders who'll make you a bike exactly to your specifications. We're not trying to compete with them. In fact, we're making most of the parts for these bikes available to other builders as well.
We're not bike fitters – it's not what we do. So we won't fit you, but we trust you'll know what dimensions you need on your bike. And since these bikes are optimized for spirited riding, the riding position is designed for that, with the stem level with the saddle or up to 50 mm (2 in) below. We're not saying that other approaches aren't valid, it's just that we don't have much experience with making bikes for them.
These bikes are optimized for spirited rides over a variety of terrain. They are the result of our extensive research & development and our commitment to quality above everything else.
The new bikes will be based on the bike I used in the 2019 Paris-Brest-Paris and which I've been enjoying ever since. Made from a choice of Kaisei steel tubing – Superlight, Mule or Oversize, depending on your weight, height and pedaling style – and running 650B x 42 mm Extralight tires. (Very small frames will be equipped with 26″ wheels.) There's a choice of three colors. The dark blue of my PBP bike in the photos is inspired by René Herse's first bikes. A lighter gray-ish blue, as seen on my brand-new Oregon Outback bike, is a modern take on the classic 'Bleu Herse' of the team bikes that led the peloton in events like Paris-Brest-Paris, Poly de Chanteloup and Brevet Randonneur des Alpes. There'll be a third color that we'll announce by the time orders open on August 15, 2021.
The bikes will be equipped with proven components: centerpull brakes, SON generator lighting, Rene Herse fenders, etc. There'll be a choice of drivetrains, either 12-speed SRAM eTap electronic shifting or a Nivex rear and Rene Herse lever-operated front derailleur. Features include a Rene Herse bottom bracket with pressed-in bearings. The lighting will feature the SL contact-less dropouts and Rene Herse's brush in the headset, so that there aren't any exposed wires connecting frame and fork. The light switch is integrated into the Rene Herse stem.
Riders can choose between Maes Parallel or Randonneur handlebars. The bikes will be equipped with a superlight 'Concours de Machines' Berthoud handlebar bag. They'll be Rinko-compatible and come with a superlight Rinko bag for travel by train, bus or car, plus a padded airplane bag. The bikes will be shipped fully assembled, with the fork, rear wheel and rear portion of the fender removed, in their airplane Rinko bags. These are complete bikes with every part you need – even the superlight Nitto bottle cages are included. They also come with my favorite bell – the unfindable, long out-of-production Tiger Bell has the most beautiful sound of any bell since the 1950s Sonn-Net. (I found a few Tiger Bells in a Japanese bike shop and bought them for this project.) You'll only need to budget for pedals…
For those prefering to assemble their own bikes, we'll also offer eight framesets. These include the fork and are available with the pressed-in Rene Herse bottom bracket and Rene Herse stem, and the same choice of drivetrains. These cost $ 5,600 – 6,400.
Since the production run is so limited, we don't want to sell these on a 'first-come, first-served' basis. Instead, we ask riders what they plan to do with the bikes and why they want one, and allocate the bikes based on that – just like René Herse did 50 years ago with the riders he equipped as part of his team.
We'll start accepting applications on August 15, and we'll review them starting August 25, 2021. There's a limited number of slots – don't delay! (On the product page, you can sign up for a notification when the order form is live.) Bikes and frames will be delivered in 2023 – early in the year if all goes well, but we're not making promises! We're excited about this project. Building beautiful bikes to us is like creating works of art: The world would be poorer without them.
Further reading:
• More information, specs, and the ordering process
• More about Jan's PBP bike.