Posted by:

Jan Heine
Post Date:
10 Jan 2017
---
Disc Brake Pros and Cons
Jan Heine
Disc brakes have become increasingly popular on bicycles in recent years, especially on all-road bikes with wide tires. Bicycle Quarterly has tested more than 20 bikes with disc brakes. Our challenging adventures have provided excellent opportunities to learn about the advantages and disadvantages of modern 'road' disc brakes.

I remember enjoying the excellent power and modulation of the then-new SRAM Red hydraulic discs on the descent from Naches Pass, but the caliper flexed the fork blade so much that the front wheel turned right each time I braked hard. At the other end of the spectrum, I sailed through a red light on a steep Seattle street, because an early mechanical 'road' disc simply lacked the power to stop the bike.
What you'll read here is a more detailed and differentiated view than the usual "discs offer great stopping power" generalizations. As with many things, disc brakes have advantages and disadvantages. Whether they are right for you (and which ones to choose) depends on how you ride.

Experts like to point out that rim brakes are in fact disc brakes – the bicycle's rim acts as the disc rotor (above). That is true in a technical sense, but it also points out the main differences between the two types of brakes.
On rim brakes:
Good: The 'rotor' – the rim – is very large (close to 600 mm on most road bikes). With such a long lever arm, the brake caliper does not need to squeeze the rim extremely hard to stop the bike.
Bad: The brake caliper must reach around the tire. This means that brakes for wider tires are heavier and more flexible than those for narrow tires.
On a disc brake, the opposite is the case:
Bad: A disc brake's separate rotor is much smaller (140 – 200 mm on most bikes). The caliper must squeeze the rotor very, very hard to slow the bike.
Good: A disc brake caliper only has to reach around a very thin rotor. Thanks to the caliper's small size, flex is not an issue.
The advantages of disc brakes are most pronounced on bikes with wide tires. That is why disc brakes are so popular for all-road bikes: Most rim brakes for wide tires offer sub-par performance. Here is why:

Scaling up the dual-pivot brake of a racing bike may provide clearance for 35 mm tires, but it results in a heavy and flexible brake. See the long lower arm of the brake in the photo above? When you brake hard, it will flex significantly.
Such a brake may feel fine during moderate braking, but pulling harder on the brake lever only flexes the brake, without increasing brake power on the rim. That is a problem during emergency stops. It's an even bigger issue during wet rides, when you need extra braking power to squeeze the water off the rim. Anybody who has descended a mountain pass in the rain and squeezed the brake lever as hard as they could without being able to stop is going to look for a better solution.


The problems of rim brakes can be solved by moving the pivots closer to the rim. This reduces the flex, since only the part between the pivot and the brake pad flexes significantly. (It's the part that gets twisted as the brake pads are pulled along with the rim.)
Cantilever brakes (above) locate the pivot close to the rim. That makes them very stiff. The problem is that the stiff brake is attached to the flexible fork blades or seatstays, which twist when you brake very hard. This changes the toe-in of the brake pads and results in poor modulation.


Centerpull brakes (above) have pivots near the fork crown or brake bridge, so flex is less of an issue. That is why they generally offer better modulation than cantilevers. The best models also have very stiff arms, and almost no brake lever travel is wasted to brake flex.
Placing the pivots next to the rims is such a logical solution that it's now used on racing bikes, too: the latest "Direct Mount" brakes use the same geometry. The only difference: The arms are actuated by a linkage (which adds weighs and friction, but eliminates the need for a straddle cable).
Really good rim brakes for wide tires exist, but they aren't very common. This may be one reason why disc brakes have taken over. They are better than "average" rim brakes.


How do disc brakes compare to rim brakes?
The advantages of disc brakes are easy to understand:
Power independent of tire size: Brake design (and power) are not constrained by tire size. You can use the same brake for any tire, and you get as much brake power with wide tires as you do with narrow ones.
Wet-weather performance: Because the rotor is small, the caliper must squeeze the rotor much harder than it does on a rim brake. This means that water will be scraped off the rotor quickly when riding in the rain. The best rim brakes also have enough power to offer decent wet-weather performance, but with disc brakes, even relatively inexpensive models work fine in the rain.
Separating tire and brake eliminates the risk of cutting into the tire with maladjusted brake pads. There is no risk of overheating the tire during long mountain descents. It also keeps rim and tire cleaner.
Switch wheels sizes on the same bike. For example, I could ride my Firefly (photo at the top) with superwide 26″ tires on rough gravel, with moderately wide 650B wheels on rough roads, and with skinny 700C tires on super-smooth roads. The outer diameter of all three wheelsets would be the same, and where the rim is located doesn't matter with disc brakes. (In practice, this isn't really an advantage, since the latest research by Bicycle Quarterly shows that wide tires roll as fast as narrow ones even on smooth roads.)

As so often, the same features that are responsible for the advantages of disc brakes also can be disadvantages:
Mechanical disc brakes often are not very powerful, because their rotors are so small. With 160 mm rotors, mechanical disc brakes don't stop you as well as good centerpull (or racing dual pivot) brakes. This problem can be solved with bigger rotors. Stay away from "road" bikes with tiny 140 mm rotors. They are simply too small for optimum braking on pavement.
Hydraulic disc brakes offer plenty of power, but their hydraulic lines tend to be fragile. On one test bike, we had a brake line blow out after it got kinked slightly during shipping. Fortunately, this didn't happen on the road, but in the workshop while adjusting the brakes.
Grabby: The most powerful disc brakes can suddenly lock onto the rotor. Especially at low speeds, braking power is hard to modulate. This isn't a huge deal, but it shows that disc brake technology is still evolving.
Pad rub: Disc brakes must be very close to the rotor – this is the flip side of the high mechanical advantage that scrapes off the water so effectively in the rain. If the rotor is slightly out of true, it will rub on the pads and make annoying squeaking sounds.
Pad wear: Disc brake pads are relatively thin, and they wear out much faster than rim brake pads. On long, wet rides, you can run out of brakes completely, so carry spare pads! Fortunately, pad replacement is easy on most models.
Weight: Many bikes with disc brakes are heavier than their rim brake counterparts, but this needn't be the case. Yes, the extra rotor and heavy caliper add significant weight, but much of that weight can be saved again on the rim, which doesn't need a brake track, nor extra material to accommodate wear. With high-end carbon rims, a disc brake bike will weigh almost the same as with a good rim brake setup. The down side is the high price of carbon rims.
Stiff fork blades: Disc brakes require relatively stiff fork blades, because the caliper is mounted near the bottom of the fork. This means that the small-diameter, shock-absorbing fork blades of our favorite custom bikes don't work well with disc brakes. For production bikes, this isn't really an issue. Most production forks don't offer much shock absorption anyhow: They are plenty stiff for disc brakes.
In a single sentence, the conclusion may be as follows: Even mid-range disc brakes offer adequate performance. The best rim brakes also offer plenty of power, but cheaper models for wide tires do not offer good braking, especially in the rain.
For a custom Allroad bike, where I can choose the best brakes and design the bike around them, I still prefer rim brakes. The best centerpulls (with brazed-on pivots) offer a sweet modulation that discs cannot match. Rim brake pads last much longer. And they can be used with the flexible fork blades that increase comfort and speed, especially on rough roads. Just watch your pads to make sure they don't cut into the tire. And be prepared to get muddy legs during long, rainy mountain descents (below).


But if you are looking for a production bike, centerpulls with brazed-on pivots aren't really an option – no production bikes I know come equipped that way. Cantilevers offer fine stopping power, but especially with carbon forks, you often get brake judder. Disc brakes often are the best option for these bikes. Choose good brakes, maintain them well, and they won't detract from the enjoyment of your bike. Here is what to look for in disc brakes:
For the ultimate in stopping power, get hydraulic calipers.
The best mechanical discs are fine for most riding. Make sure your front rotor is no smaller than 160 mm. I'd prefer 180 mm. (200 mm tends to be too grabby at low speeds.)
Check your pad wear regularly. On long rides, carry spare pads.
Be prepared for the occasional squealing as your pads rub.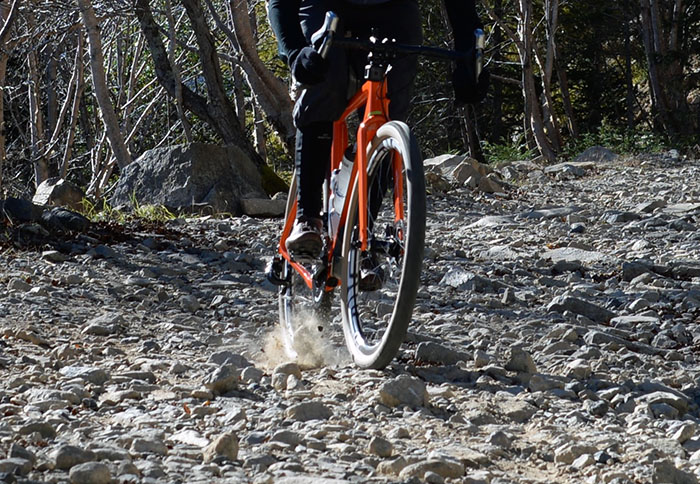 Further reading: