Posted by:

Jan Heine
Post Date:
13 Jul 2020
---
New, Small and Useful
Jan Heine
Sometimes it's the small things that make a big difference. Things that we need or want, but that nobody makes because they are, well, small and not so profitable, since they'll sell only in small numbers. But we need them for our own rides, and so we're making them. We've recently added a number of these small things to the program.
Our Rene Herse pedal bag is useful every time you travel with your bike by car, train, bus, or airplane. You take off the pedals to reduce the width of the bike… Where to put the pedals with their greasy threads? How do you keep the grease off your other luggage and dirt off the threads? Enter our handy pedal bag. Made from strong Nylon fabric and with a secure drawstring closure, it weighs just 8 g. ($ 10)
When you take out your wheel, how do you protect the disc brake rotors? They tend to cut other luggage, and you want to keep them clean. The disc rotor covers are padded and wrap rotors up to 160 mm. ($ 12).
These cute little tags are actually disc brake spacers. They prevent the calipers of hydraulic brakes from closing too much when the wheel isn't installed.
The elastic goes over the caliper and holds the spacer in place. ($ 12/pair)
Our new Rene Herse tube covers are based on Ostrich's model. They are thin, yet strong – perfect for trips where you need to carry the pads on your bike after you've taken the train or bus. They are a little shorter than the other Ostrich's models, to fit on bikes with multiple braze-ons.
Most of all, they have a longer Velcro that allows adjusting the diameter for everything from slender seatstays to standard-diameter down tubes (28.6 mm). ($ 26/set of 3)
Ostrich's L-100 Straps aren't new, but they remain super-useful. They are half the size of most webbing, making them perfect for strapping small things like rain jackets to your saddle, or for emergency repairs. They're much lighter and pack smaller than a toestrap! ($ 11/set of 3)
The Rene Herse Airplane Rinko Bag isn't only for flying. It's a reinforced, padded Rinko bag that protects your Rinko Bike during trips where the thin Silnylon bags aren't enough. (Those are intended to keep other travelers and luggage clean, not to protect the bike.) The padding is strong, yet light, and the entire bag folds into thirds at your destination.
For readers not familiar with the Alps style of Rinko, it's based on removing the fork and rear wheel, reducing the dimensions of the bike to just the frame – without couplers. You strap the parts together, so you end up with a free-standing, compact package that is easy to carry. With a little practice, disassembly and reassembly take less than 10 minutes.
The Airplane Rinko Bag is much shorter than Ostrich's standard OS-500 airplane bag, but a little taller to fit even tall frames. An inside pocket holds the rear wheel separate from the frame to reduce the risk of damage. I used prototypes of the Airplane Rinko Bag for trips to Paris-Brest-Paris and to Japan last year, and I enjoyed how easy it is to carry the smaller, lighter package. And our hotel in Paris appreciated that I didn't leave a huge bike box in the (tiny) luggage room while I was on my ride. We've commissioned a one-time production run of Rene Herse Airplane Rinko Bags. Once they are gone, it's unlikely we'll make more, since it's such a specialized item. ($318)
The shoulder straps that come with Berthoud handlebar bags are light and pack small. They are great for rides where you carry your bag only to go into shops and restaurants. For cyclotouring, where you spend more time off the bike, the Ostrich Shoulder Strap clips on and off your bag more easily, and the large shoulder pad makes carrying more comfortable. ($ 18)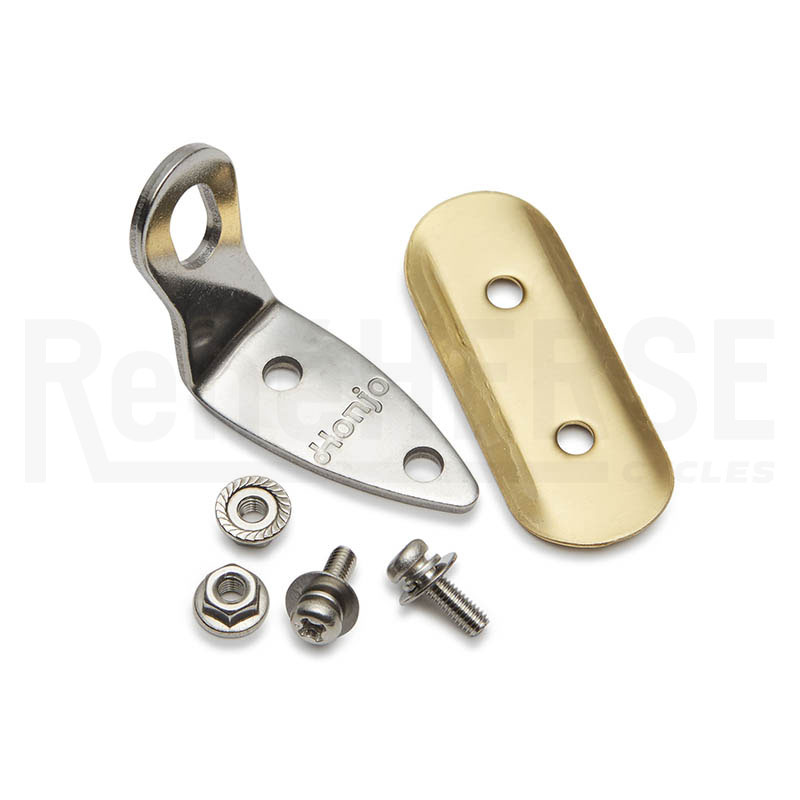 Small, useful things include Honjo's L-brackets for mounting fenders on bikes that don't have threaded mounts facing the tire. They come in three versions, long (shown), short and extra-large for our new 75 mm-wide fenders. ($ 10 – 29)
Customers have asked for Rene Herse crankarms as spare parts. They rarely need replacement, but some customers have a spare set of rings they want to build into a crank. So we're making them available separately. ($ 95 – $ 125)
And finally, a product we're especially excited about: The Rene Herse musette bag weighs just 25 g, packs smaller than an energy bar, but unfolds to hold three large waterbottles. Or more likely, croissants and drinks for your entire group as you ride from the bakery to the park where you'll have your (socially distant) picnic.
After your picnic, fold it up and put it in your underseat bag or jersey pocket. Use it again when you pick up some vegetables at the farmer's market on the way home. Made from Silnylon, it's incredibly light and strong. ($ 19)
Click on the links for more information about these parts.