Posted by:

Jan Heine
Post Date:
16 Dec 2016
---
Rides to Remember
Jan Heine

In Seattle, the cycling season has ended. Snow has closed most mountain passes. Our bodies welcome a little rest from the long adventures. The time has come to pour a cup of tea and review the rides of this year.
Here are some of the most memorable rides of this year. Click on the links to read blog posts (blog) or see Bicycle Quarterly issues with these rides (BQ), where available.


My season started with a great ride up Yabitsu Pass in Japan. It had snowed that week, but the road was (mostly) passable. I enjoyed having the mountain all to myself, and as a bonus, I crested the pass at sunset and was treated to a most glorious view of Mount Fuji. (Blog)


February saw us explore a local favorite, the Tahuya Hills, on a part-pavement/part-gravel road that we hadn't ridden before. We were rewarded with a fun ride, great views, and a huge bald eagle flying next to us. (Blog)


In March, Hahn and I embarked on our biggest adventure yet: We climbed the 4000 m-high Paso de Cortés in Mexico on Enduro Allroad bikes. It was an amazing feeling to cycle almost as high as the top of our Mount Rainier. The loose volcanic soil provided a great test for our ultra-wide tires. And the night-time ride into Mexico City was an adventure all of its own. In the process, we discovered that the central highlands of Mexico are a great place to ride a bike, and remarkably accessible from the U.S. (BQ)

Spring is a great time to ride almost anywhere, and there were many wonderful rides. One that stands out was a trip to the mountains in Japan with a group of friends who've been touring together since college. The cherry blossoms were in full bloom, the small mountain roads were beautiful, the conversation was full of laughter – it was a great two-day ride with no thought given to speed or distance. (Blog)


In May, I entered what is billed as the "hardest bike race in Japan", the Otaki 100 km Mountain Bike Race. Since the race goes over gravel roads, I thought that a mountain bike would be overkill, and I brought my Enduro Allroad bike with its 54 mm tires. I was in for a surprise: The roads were incredibly rough, and the organizers weren't kidding when they recommended full suspension bikes.
What happens when a road cyclist on a road bike (albeit with wide tires) enters a full-on mountain bike race? The full story is in the current Bicycle Quarterly.


Right after that epic race, we enjoyed a tour of the Hanto Peninsula. It was a beautiful place, off the beaten path and yet easy to reach from Kyoto or Osaka, and with just enough tourism to provide the services we needed without ever feeling remotely crowded. (BQ)


June saw a great all-day ride with the "BQ Team" as we tried to find the "Lost Pass" in the central Cascades. We did not find the elusive connection between two valleys, but our ride was a great test for the Litespeed T5g Allroad bike. And this winter, we've already identified a few more promising roads on our maps: The search for the "Lost Pass" continues! (BQ)


The Bicycle Quarterly Un-Meeting was another unforgettable experience. A great variety of riders came out for a great weekend of riding off the beaten path. The weather turned sunny just in time for the Un-Meeting, but on the way to the gathering, many riders crossed the rain-soaked Cascades for an added dose of adventure. (Blog and BQ)


A few days after the Un-Meeting, I headed to France to participate as a judge in the first Technical Trials since 1949. It was exciting to meet young and established constructeurs, who are continuing the great tradition of French cyclotouring bikes. Riding with them over challenging mountain roads in the heart of France was a great experience. (Blog and BQ)


A trip to France would not be complete without visiting Lyli Herse. My tandem ride with the 88-year-old daughter of the great constructeur was one of the shortest rides this year, but also one of the most emotional. To pilot her not far from the roads where she used to dominate the Poly de Chanteloup hillclimb race during the 1940s and 1950s was a great experience, especially since we rode a tandem built in 1946 by her father! (Blog)


A summer ride to Bon Jon Pass sounds like a great way to test a modern Allroad bike, but the weather forecast's "slight chance of showers" turned into solid rain. Despite the inclement weather, Ryan (left), Gabe (right) and I had a great ride. The full story and test of the Moots Routt are in the current Bicycle Quarterly.


September saw me back in Japan, where I discovered the ride to Utsushigahara. With beautiful scenery, challenging climbs, a gravel road above 2000 m, and the most incredible (paved) descent, it's one of my favorite rides anywhere. (Blog)


Japan offers a wonderful mix of challenging adventures and beautiful rides at a more casual pace, like this weekend ride in the mountains near Fukushima. (Blog)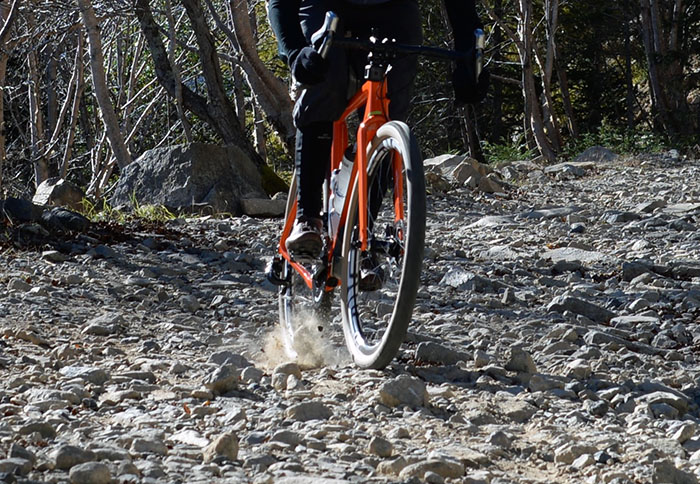 October saw a great ride over an incredible mountain pass. Since the story and bike test will be published in the Spring 2017 Bicycle Quarterly, I cannot talk about it without being a spoiler. Suffice to say that it was another highlight in a year full of great rides.


In November, the end of the cycling season was approaching quickly, so I snuck out for a last ride over the gravel passes of the Cascades. Snow was already accumulating on the ground at the higher elevations, but the sun came out and bathed my favorite landscape in a beautiful light. It's always bitter-sweet to enjoy the mountains for a last time, before the snow closes my favorite roads for 6 months.


And just when I thought the cycling season was over, I found out that the Washington State Cyclocross Championships were in early December. So I dusted off the old Alan, checked that the FMB tubulars still held air, and headed north for my first 'cross race in more than a year. What fun it was, and what a great way to close the season!


And after this encore, the season now is truly over. Memories keep the dream alive. Now it's time to pull out the maps and start planning next year's adventures!
What were your favorite rides this year?
Photo credits: Carlos (Photo 4), Toru Kanazaki (Photo 6), Natsuko Hirose (Photos 10, 11, 15, 17).