Posted by:

Jan Heine
Post Date:
22 Oct 2021
---
Travels with J. P. Weigle
Jan Heine
Today would have been J. P. (Peter) Weigle's French Fender Day, the gathering of cyclotouring bikes old and new at the master's workshop deep in the woods of New England. The meeting went virtual this year, with a photo contest on Instagram with the tag #ffd2021v. You can still enter; the deadline is today. For Natsuko and me, this was an opportunity to reflect on many great memories of times spent with Peter Weigle.
I don't recall when I first met Peter – it was many years ago. I do remember talking to him on the phone, and pondering why the very first bike Bicycle Quarterly ever tested didn't seem to climb as well as some other bikes I'd ridden. "The frame is made from oversized tubing," I explained to Peter. "It should be more than stiff enough." There was a pause at the other end of the line. Peter isn't somebody who talks before he thinks. Finally, he said: "What if the frame is too stiff for you?" That was a completely new thought for me, but it set in motion our research into frame stiffness, performance and 'planing.'
Then Peter took up the challenge himself and built us a test bike. By this point, we had been measuring frame geometries and found that many of the classic French cyclotouring bikes had much less trail than was common back then – and yet they handled with more precision than bikes with more 'modern' geometries. Peter built us a frame and two forks, so we could compare different low trail geometries.
Back then, he didn't really know what to think of us, those 'crazy young riders from Seattle,' so he actually came out with his bike, assembled it for us, and then accompanied Mark and me on our first test ride. It was a great outing – Peter is an incredible rider who has a national championship title to his name (in cyclocross). And he seemed to like how we rode, because at the end, he said: "I'm returning back east tomorrow. Keep the bike as long as you like. Enjoy it!" That was the beginning of a great friendship.
For Bicycle Quarterly's 50th edition, Peter built us another test bike that incorporated all the latest developments. (It's on the right in the photo above.) I took it to one of the first BQ Un-Meetings. It rode like a dream, whether unloaded or with all my camping gear in the front panniers. This time, Peter didn't accompany his bike on its trip to the Cascades – he trusted us to ride it well and bring it back in one piece. (We did.)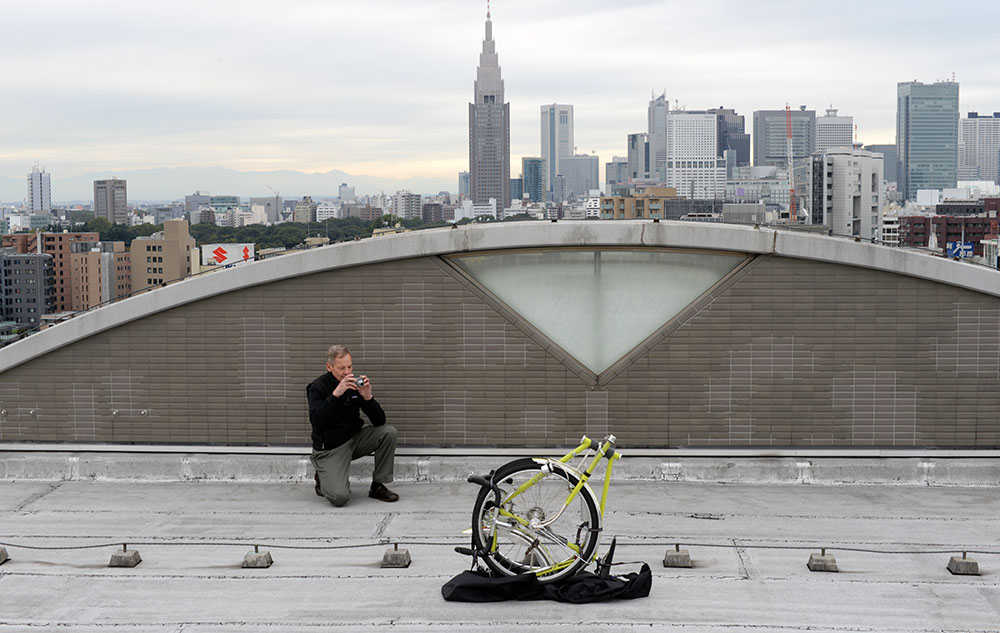 The next time we saw Peter was in Tokyo. He had been curious about the Japanese builders and about riding in the Japanese mountains, so we asked him to join us one autumn for some beautiful rides. For this trip, Peter built his first Rinko bike.
We joined the Hirose's Owners Meeting together. Seeing the two great masters meet each other was truly special. Peter enjoyed a visit to the craftspeople at TOEI at least as much, chatting about how to bend rack tubes and all the other details that make a randonneur bike special. Another highlight was our visit to Misao Takigawa, one of Japan's foremost collectors of classic bikes and components. Peter wrote a wonderful article about this trip, which has become an all-time favorite.
Peter fell in love with the Japanese mountain roads. Here he's riding my Mule, while I'm on the Rinko-Weigle. It was during this ride that Peter asked me: "What would happen if we took one of these bikes to the Concours de Machines in France?"
That's how we met the following summer in Paris. Peter had built a most amazing bike for the Concours – a competition for the best bike based on light weight, innovative features and reliability. However, the bike wasn't quite ready yet. So we took it to our friends at Cycles Alex Singer to finish things like setting up the brakes and adjusting the derailleurs.
Late at night, the bike was finally ready to roll. Olivier Csuka hung the new Weigle from the scales that already had weighed the superlight Alex Singers for the 1940s Concours. We had no idea how light it would be, so we watched with bated breath as Olivier adjusted the counterweight until the scale was perfectly balanced: "9.1 kg" he announced. That's exactly 20.0 lb. For a bike with a generator hub, lights, a leather saddle, fenders, bottle cages and even a pump, that's incredibly light. And yet the bike was no show queen or one-event bike – I've ridden it quite a bit since then, with zero problems.
Now the bike had to prove its worth in the Concours. Above, I'm returning from the first day of riding, after more than 160 km (100 miles) on mountain bike trails. The trails were so rough that I did fear a bit for the bike, especially since there was a minimum speed we had to maintain (or get penalty points).
When I returned from the all-day ride, Peter was waiting anxiously. I realized how much faith he had put into me. He'd worked hard for months to create this bike, only to hand it over to me, and hope that I would ride it well and, most of all, not break it. It was my first ride on the brand-new bike, yet it passed the technical inspection without any trouble.
After two days of riding and a final bike check, Peter's bike got the prizes for the lightest bike, for the technical classification (best features and least malfunctions), and was voted the favorite of the jury.
Our adventures in France continued with a visit to Lyli Herse, where Lyli admired Peter's bike, and Peter admired Lyli.
The next time we met at Peter's workshop for French Fender Day. It was a marvellous event with more than a hundred guests. We met old friends and made new ones. We admired classic bikes and marveled at new ones with innovative features. And we looked around Peter's fairy-tale workshop.
Peter is a true artist who puts so much into every bike he makes.
Peter's bikes are amazing in their beauty, but the best part is how they ride. Whether it's heading deep into the Cascade Mountains for a BQ Un-Meeting, descending a twisty Japanese mountain pass, or riding bike-breaking trails in the French Concours de Machines, I can't think of a bike I'd rather ride.
Further reading:
The BQ editions where Peter wrote about our adventures in Japan and France are out of print (not surprisingly), but others are still available:
• BQ 50 had the test of Peter's 650B bike.
• BQ 60 featured Peter's report on his trip to Japan. (Out of print)
• BQ 61 had the story of the Concours de Machines. (Out of print)
• BQ 66 has our report from French Fender Day.
• BQ 70 featured Peter's workshop and techniques in our 'Shop Visit' series.
• Check this Journal entry for more about the superlight Concours de Machines bike.