Posted by:

Natsuko
Post Date:
24 Sep 2020
---
Handlebar Width Matters
Natsuko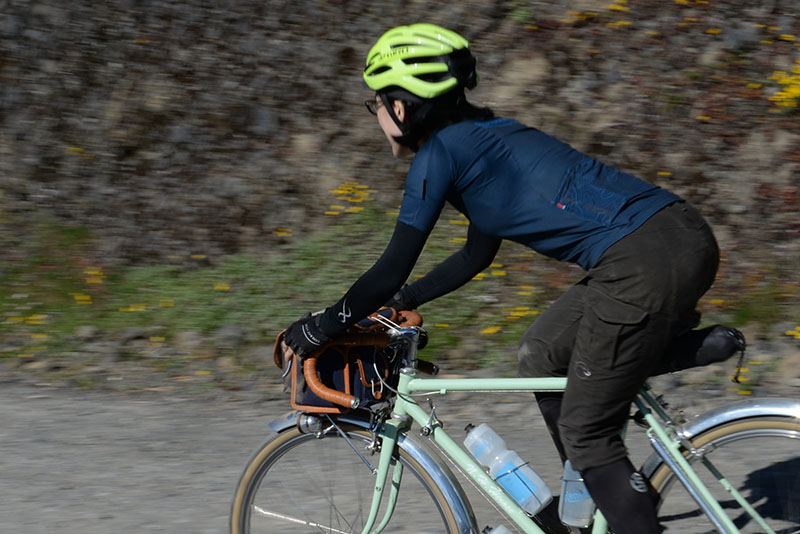 When I got my new C. S. Hirose, I was excited to have a bike with wide tires for the gravel roads of the Cascade Mountains. I love my other Hirose, and so I asked the builder to make the new one as similar as possible. Some parts we brought to Japan, like the cranks, fenders for 26″ wheels, and a generator hub, but most components the builder could just order. I wanted to use modern parts as much as possible.
And yet when I first rode my new bike, it felt different. It was hard for me to tell the reason, but I was more tense riding the new bike. I expected wider tires to be more stable, and yet the new bike didn't put me at ease.
At first, I wondered whether the wide tires somehow affected the handling. The builder suggested that the bike's geometry might work best with the low-rider panniers attached. But even that didn't change it. Then I noticed that my elbows hurt a little after an all-day ride on the new bike. That's when we measured the handlebars. They were 39 cm wide. And yet I knew that my old bike had 37 cm handlebars. In fact, I didn't use Rene Herse handlebars because the narrowest version we offered was 40 cm.
Why had the builder used wider bars on my new bike? I checked the Nitto catalog and realized that the 37 cm handlebars had been discontinued. Suddenly it made sense: The builder had used the narrowest bars he could get. I was quite surprised that narrow handlebars no longer exist.
During our next trip to Japan, we asked Nitto's president, Mr. Yoshikawa, about it. He said: "You'll probably notice bars that are 2 cm wider, but there simply wasn't much demand for the narrowest version." 
Handlebars for not-so-tall riders may not be a big market, but it's bothered me for a long time that the bike industry mostly thinks of riders as men of average height and body shape. Many Rene Herse products were created because we needed them, and nobody made them. So we decided to make 37 cm handlebars.
We modified the shape of our Randonneur handlebars a bit for the 37 cm version. The drop is a bit shallower, since a very deep drop would be a bit of a stretch for not-so-tall riders. The bars flare a little more at the bottom to give enough leverage over the front wheel in technical situations. The 37 cm handlebars are made to the same Superlight specification as our other bars. They weigh just 262 g – my bike got 45 g lighter with the new bars!
I don't notice the lighter weight, but the feel of the new bars is very different. The bike feels more stable. I find it easier to direct the bike where I want to go. And there is no elbow pain any more, even after a challenging ride to Naches Pass in the heart of the Cascade Mountains.
The narrower bars make it much easier to bend my elbows, too. The width difference may just be 2 cm, but it makes a big difference when I ride. I finally feel at home on my new bike. It's easy to relax. It's my bike now!
And for those who are looking for narrow handlebars, we have the new bars in stock now.