Posted by:

Jan Heine
Post Date:
19 Nov 2021
---
More Umtanum Ridges and Hatcher Passes!
Jan Heine
Just a quick note that we've received a restock on our most popular tires of the moment, the new 650B x 55 Umtanum Ridge knobbies and 700C x 48 Hatcher Pass all-road tires. A few other models are available again, too.
Ever since taking prototypes of the Umtanum Ridges (above) on a non-stop ride around the Olympic Mountains as part of my training for the Oregon Outback last spring, I've been amazed what these tires can do. (The beautiful Fern bikepacking bike also contributed to making that ride a success.)
The Round-the-Olympics course consisted of 85% pavement, 14% gravel and 1% snow. I only needed the knobbies in the snow, but since they didn't hold me back on the pavement and gravel parts of the ride, I was glad to have knobs digging into the soft surface when the passes were still covered in a foot of snow. That got me thinking: If there was any chance of encountering snow or mud on the Oregon Outback, I would have run knobbies – and my FKT (Fastest Known Time) would have been just a few minutes slower, if at all.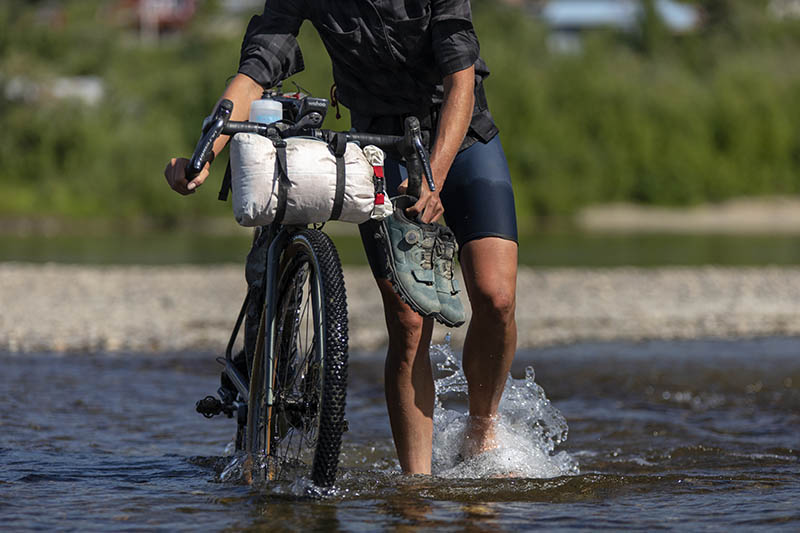 The Hatcher Pass came about because Lael Wilcox asked about it. She's been in love with the knobby equivalent, the 700C x 48 Oracle Ridges (above), since she ran the first prototypes on her Specialized Diverge. She's ridden them in Arizona, Alaska and even (on the rear) in her Tour Divide time trial. In fact, she's on her fourth set, and these wide tires last a looooong time!
Lael asked us for a smooth version of these tires. "They'd be perfect for my favorite pass in Alaska," she explained. "The front side of Hatcher Pass is paved and leads to Independence Mine – an abandoned gold mine that is now a state park. The back side is dirt. In August and September, there are fields full of wild blueberries near the top." We knew that if Lael needs a tire, there are many others who do, too. She's been running the new Hatcher Pass 700x48s on her new Specialized Crux when she doesn't need the knobs of the Oracle Ridges.
The quantities of this restock are very limited. And some tire models are still on the way and not yet in stock… It's the nature of things right now, and we have to make do with it the best we can. That's also why there are no all-black Umtanum Ridges apart from the first prototypes. We simply don't have the production capacity to add another model right now. Thanks for understanding!
Further Reading:
• Lael's story of riding in Alaska is in Bicycle Quarterly 72.
• The test of the Fern Chuck Explorer and the Round-the-Olympics adventure is in Bicycle Quarterly 76.
Photos: Rugile Kaladyte (action photos)