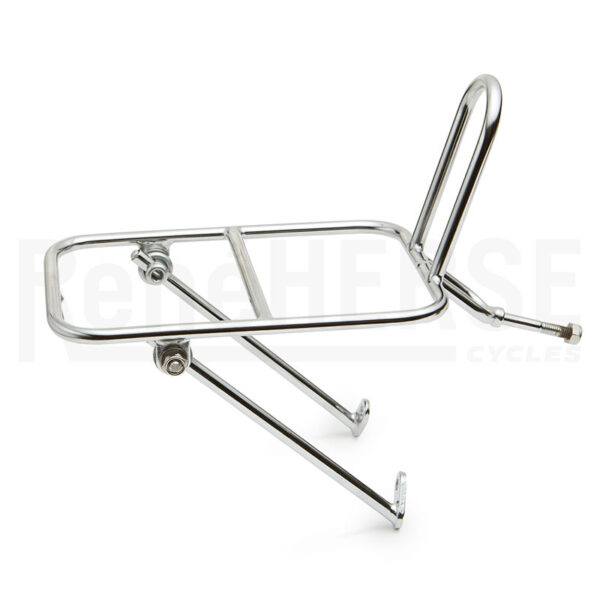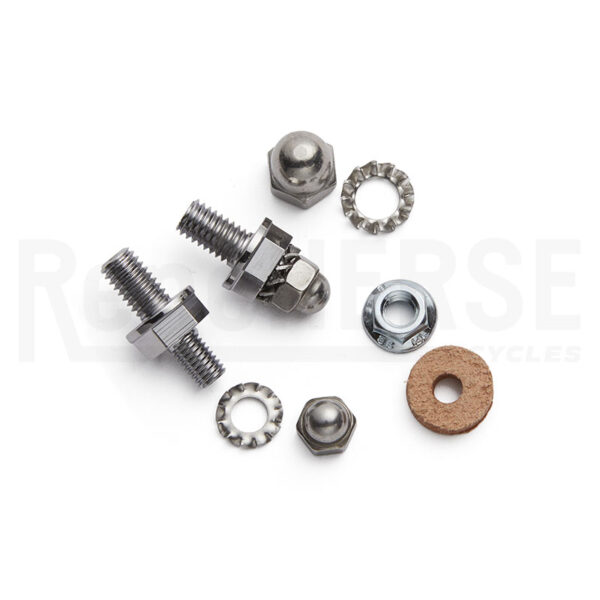 Rene Herse UD-2 Cantilever Front Rack
$229.00
A superlight rack that fits most bikes with cantilever brakes. The Rene Herse UD-2 rack is adjustable, yet elegant and stable. Made with ultra-strong, ultralight Cromoly tubing throughout, this rack weighs just 234 g.
The modular UD rack system is so simple that you'll wonder why nobody has made racks like this before. Different struts are available to attach to cantilever posts (canti version), mid-fork or dropouts eyelets (disc version). The struts attach to the inside of the tabs, making the rack much more elegant than similar racks where the struts attach to the outside
The UD-2 rack requires a 6 mm hole all the way through the fork crown and cantilever bosses on the fork. The struts are made from CrMo steel for strength and chrome-plated for durability, so they should not be cut. Select the strut length that works for your bike:
Standard (150 mm) for post to crown distance (PTC) of 70-98 mm
Long (170 mm) for PTC of 96-114 mm
Also available in the UD-1 version that attaches to eyelets on the fork blades. Light mount not included, available separately.
Pro Tip: The struts are available separately, so you can move the rack from one bike to the next.
Scroll down for complete specs.
Suitable for most bikes with cantilever brakes
Attaches to fork crown and cantilever posts
Works with narrow and wide canti post spacing (struts are adjustable)
Requires 6 mm hole all the way through the fork crown
Fork crown bolt is 40 mm long. If crown is thicker than 35 mm, use a recessed nut (for brakes).
Strut length (c-c):

Standard: 150 mm, fits PTC (vertical distance from canti post to crown hole; see fourth photo) of 70-98 mm
Long: 170 mm, fits PTC of 96-114 mm

Platform: 170 mm x 120 m (Backstop: 48 mm)
Fender attachment at the front of the rack
Made from Chromoly tubing for strength and light weight
234 g (rack); 23 g (hardware)
Load limit: depends on terrain, riding style, tire size and pressure. Tested to 10 kg (22 lb) on a lab 'torture' machine and in the field.
Made in Japan
The racks are supplied with custom hardware:
2x Rene Herse rack/brake bolts (M6/M5)
2x M5 domed nuts and serrated washers
M6 nut for fork crown mount
Nut with built-in washer and leather washer for fender mount