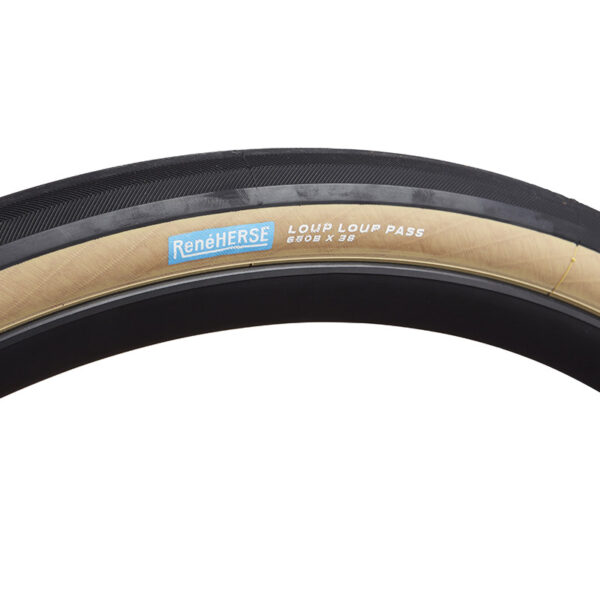 650B x 38 Loup Loup Pass Tire
$74.00 – $90.00
The joy of a road bike without the drawbacks: The 38 mm Loup Loup Pass provides the intimate feedback that you love on a road bike, but does away with the chatter and discomfort. We name our tires after the passes in the Cascade Mountains that inspire them: Loup Loup Pass connects the Methow Valley with the Okanagan in northern Washington State. The road across this scenic pass is paved, but the asphalt is rough and cracks have formed where the road has settled. Wide tires allow you to traverse this beautiful pass with confidence.
The supple casing of Rene Herse all-road tires rolls smoothly over surface irregularities. The tread pattern interlocks with the road surface for superior cornering grip, wet or dry. The tread has enough thickness in the center to last thousands of miles, but it's thin and supple on the shoulders where it doesn't wear.
The Standard casing is our more affordable option: comfortable and fast, yet also strong to withstand considerable abuse. The Extralight casing takes the performance, comfort and feel of your bike to an entirely new level.
The Loop Loup Pass requires tubes. We recommend the SV12 or SV14A tubes.
Made in Japan.
All models feature:
Clincher, folding bead
Maximum pressure: 75psi (5.2 bar)
Actual width on 20 mm rim (internal): approx. 37 mm
Actual width on 23 mm rim (internal): approx. 37.5 mm
Extralight casing: +0.5 mm width
Recommended rim: 17 - 29 mm (inner width; hookless: +1 mm)
Standard casing
Supple casing
Tan sidewalls
354 g
Extralight casing
Ultra-light, ultra-supple casing
Black or tan sidewalls
333 g
Click here
for a downloadable article on optimizing your tire pressure and tire installation instructions.