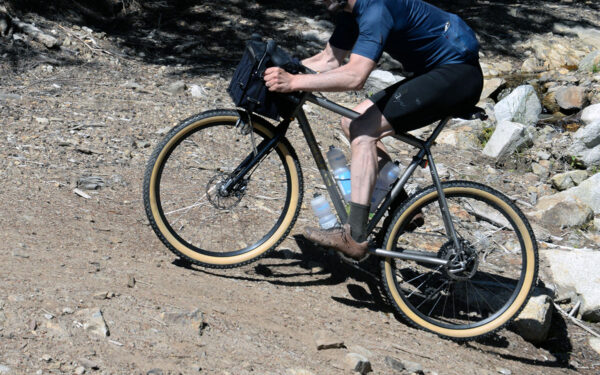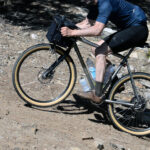 26″ x 2.3″ Humptulips Ridge TC Tire
$78.00 – $96.00
Our revolutionary dual-purpose knobbies in a 26″ version. Humptulips Ridge, the place that inspired these tires, is at the southern edge of the remote Olympic Mountains. A beautiful narrow gravel road climbs one side of the ridge, then descends the other, in an otherworldly loop that ranks among the best riding experiences anywhere.
The Humptulips Ridge grips like a knobby when conditions get tough. On pavement, it rolls like a slick tire thanks to its large and strategically placed knobs that don't squirm and always put the same amount of rubber on the road. The Humptulips Ridge features our noise cancelling technology: The staggered tread blocks create overlapping noise frequencies that partially cancel each other. Thanks to the superior materials used in its construction, the Humptulips Ridge is one of the lightest tires in its class.
The Standard casing is our more affordable option: comfortable and fast, yet also strong to withstand considerable abuse. The Extralight casing takes the performance, comfort and feel of your bike to an entirely new level. The Endurance casing is reinforced for extra sidewall protection and puncture resistance, while retaining the speed and comfort for which Rene Herse tires are famous. The Endurance Plus casing provides the ultimate in sidewall protection for extremely tough conditions.
The Humptulips Ridge is tubeless-compatible. For tubeless setup, we recommend SealSmart sealant. When used with tubes, we recommend SV13 or SV14 tubes.
Pro Tip: The noise cancellation improves further during the first 30 miles (50 km) as the sharp edges of the knobs wear off a little.
All models feature:
Clincher, folding bead
Tubeless-compatible
Maximum pressure with tubes: 55 psi (3.8 bar)
Maximum recommended pressure – tubeless: 55 psi (3.8 bar)
Actual width on 20 mm rim (internal): approx. 52 mm
Actual width on 23 mm rim (internal): approx. 53 mm
Extralight casing: +1 mm width
Tubeless: +0.5 mm width
Recommended rim: 17 - 39 mm (inner width; hookless: +1 mm)
Made in Japan
Standard casing
Supple casing
Tan sidewalls
525 g
Extralight casing
Ultra-light, ultra-supple casing
Ttan sidewalls
490 g
Endurance casing
The same ultra-fine threads as our Extralight casing, but in a denser, stronger weave
Protective belt under sidewalls and tread
Ideal for rough gravel and tough conditions
Dark tan sidewalls
585 g
Endurance Plus casing
Extra-tough casing with ultra-strong threads
Protective belt under sidewalls and tread
The ultimate in sidewall protection
Dark tan sidewalls
610 g